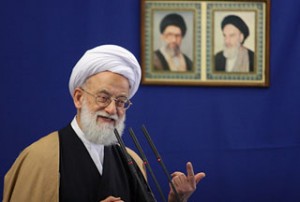 Amid a US-led drive to push a fresh round of UN Security Council sanctions against Iran's nuclear program, a top Iranian cleric has downplayed "the enemy's plots."
Tehran's interim Friday Prayers leader Ayatollah Mohammad Emami Kashani said on Friday that "the enemy will not succeed in its attempt to halt Iran's peaceful nuclear activities through deception and trickery."
Referring to the Leader of the Islamic Ummah Imam Seyyed Ali Khamenei's remarks, he said that Iran views nuclear weapons as "illegal and haraam" — meaning forbidden and prohibited according to Islamic rules.
"Despite this," the cleric added, "We are witnessing that the enemy is leveling countless accusations against the country and is threatening us with sanctions."
However, Emami Kashani said that such accusations and threats "will be rendered useless in the face of the Iranian nation's vigilance."
The United States and its Western allies accuse Iran of making clandestine efforts to develop nuclear weapons and are vying for support to impose fresh sanctions on the country within the UN Security Council.
Iran, a member of the International Atomic Energy Agency and a signatory to the Nuclear Non-Proliferation Treaty, has repeatedly dismissed the allegations.
Tehran says it should be allowed to exercise its rights to acquire nuclear technology for peaceful and civilian purposes.