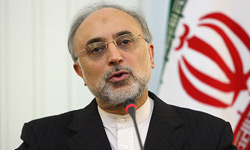 Iranian Foreign Minister Ali Akbar Salehi said his country as the current president of Non-Aligned Movement (NAM) is prepared to cooperate with African Union (AU) for finding a solution to the current crisis in Mali.
"As the head of NAM, Iran is ready to cooperate with the African Union to resolve the crisis in Mali," Salehi told reporters in Addis Ababa, Ethiopia, on Saturday.
He underlined Iran's strong opposition to interference in the domestic affairs of countries and military intervention.
The Iranian minister further lashed out at the West for its double-standard attitudes towards extremist groups, and stated, "The West supports extremist groups in Syria but opposes these groups in Mali."
Salehi is in Ethiopia to attend the 20th AU summit.
As the French-led assault against the rebels controlling Northern Mali entered its third week, aid workers have warned about a growing food crisis for civilians.
Hundreds of thousands of Malians, mainly Tuaregs, are escaping rebel-held areas in the North fearing a backlash.
Refugees have been fleeing to the Malian-Mauritanian border, and the UN expects as many as 700,000 civilians will be displaced by the fighting.
France swept to the aid of the weakened Malian army on January 11, as the rebels pushed South towards the capital Bamako.