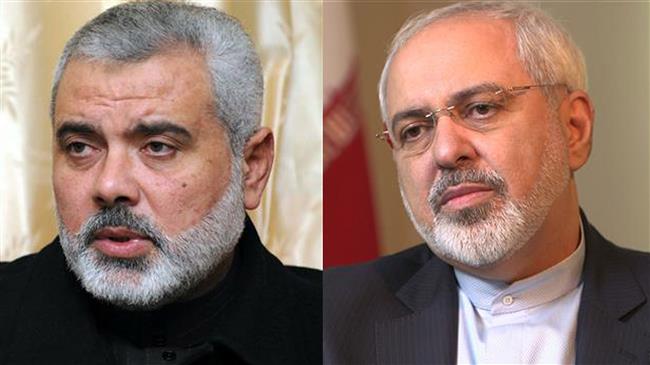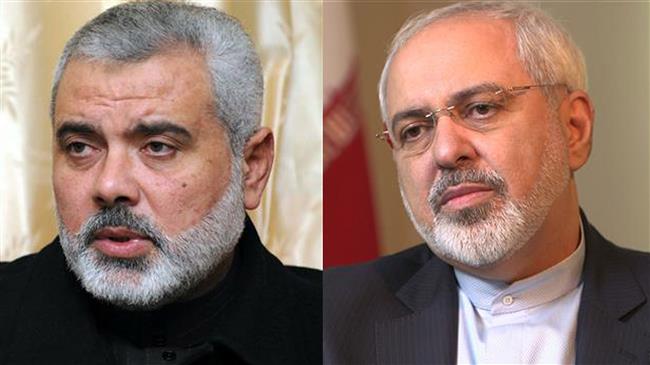 Foreign Minister Mohammad Javad Zarif reaffirms Iran's support for the Palestinian resistance against Israeli crimes following the regime's recent killings in Gaza, saying Tehran plans to follow up on the issue at the UN and other international bodies.
In a Wednesday telephone conversation with Head of Hamas Political Bureau Ismail Haniyeh, Zarif expressed solidarity with the Palestinian nation over the deaths of 18 protesters in Gaza at the hands of Israeli military forces.
The top Iranian diplomat underlined the need for the United Nations and the Muslim word to take comprehensive measures in support of the Palestinian people and in condemnation of Israel's atrocities.
Iran plans to pursue Israel's latest crimes against Palestinians at the UN General assembly, the Non-Aligned Movement (NAM) and the Organization of Islamic Cooperation (OIC), Zarif added.
Haniyeh, for his part, expressed gratitude for Tehran's policies in support of the Palestinian resistance movement and briefed Zarif on the latest developments in Gaza.
The Hamas official also asked the Iranian foreign minister, who is now in Ankara for a summit on Syria, to raise the Palestinian issue during talks with officials of Turkey and Russia.
On Friday, Gazans marched to the fence with the occupied lands at the start of a six-week protest, dubbed "The Great March of Return," demanding the right to return for Palestinians driven out of their homeland.
The first day of the demonstrations turned violent after Israeli forces used tear gas and live fire against the Palestinians, killing 18 and injuring almost 1,500 Gazans.
Prior to the mass demonstration, the Israeli military had deployed special forces, including 100 snipers to Gaza's border, and authorized its forces to open fire on the unarmed protesters.
Multiple human rights organizations have come out in full condemnation of Israel's violent raids on the civilian mass protests in the besieged sliver.
Human Rights Watch has slammed Israel's killing of Palestinian protesters as "unlawful" and "calculated," saying those officials who authorized the Israeli military to use lethal force ahead of the mass rallies in Gaza are to blame for the bloodshed.
On Saturday, the Security Council held an emergency meeting over the mass killing by Israeli forces, but failed to condemn the regime as the US hindered a final statement against its ally.
Palestine's Hamas resistance movement has urged the Arab League to file a lawsuit with the International Criminal Court (ICC) against Israel over the crimes.
Israel has defended its use of lethal force against Palestinian protesters, claiming that its forces opened fire only when necessary.
The Return rallies culminate on May 15, the day Palestinians commemorate Nakba Day (Day of Catastrophe) when hundreds of thousands fled or were driven out of their homes in 1948, the year Israel was created.