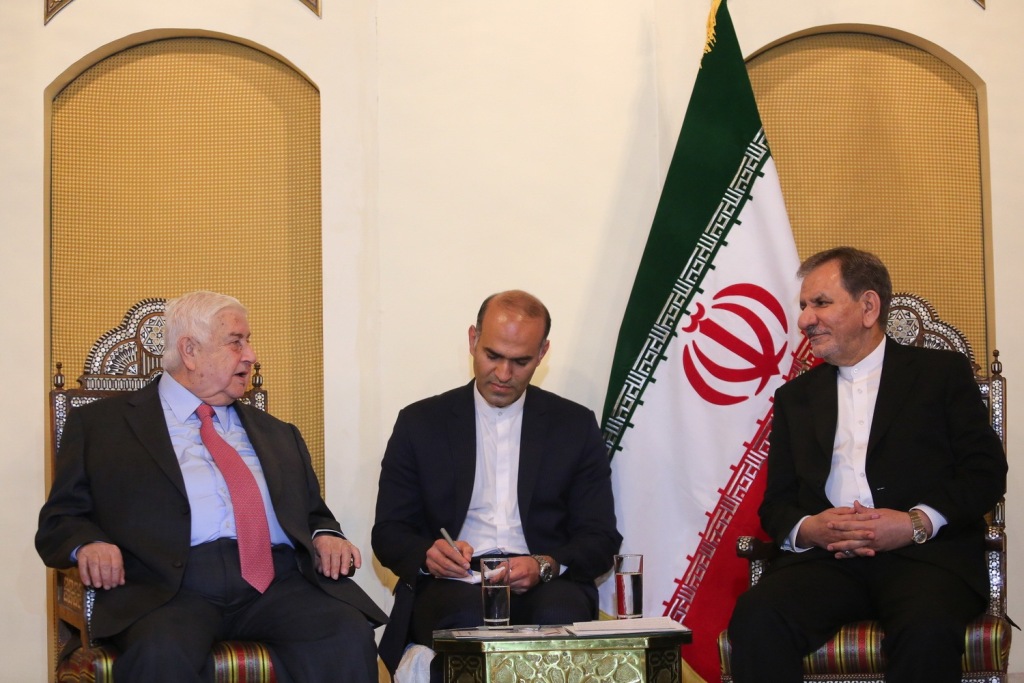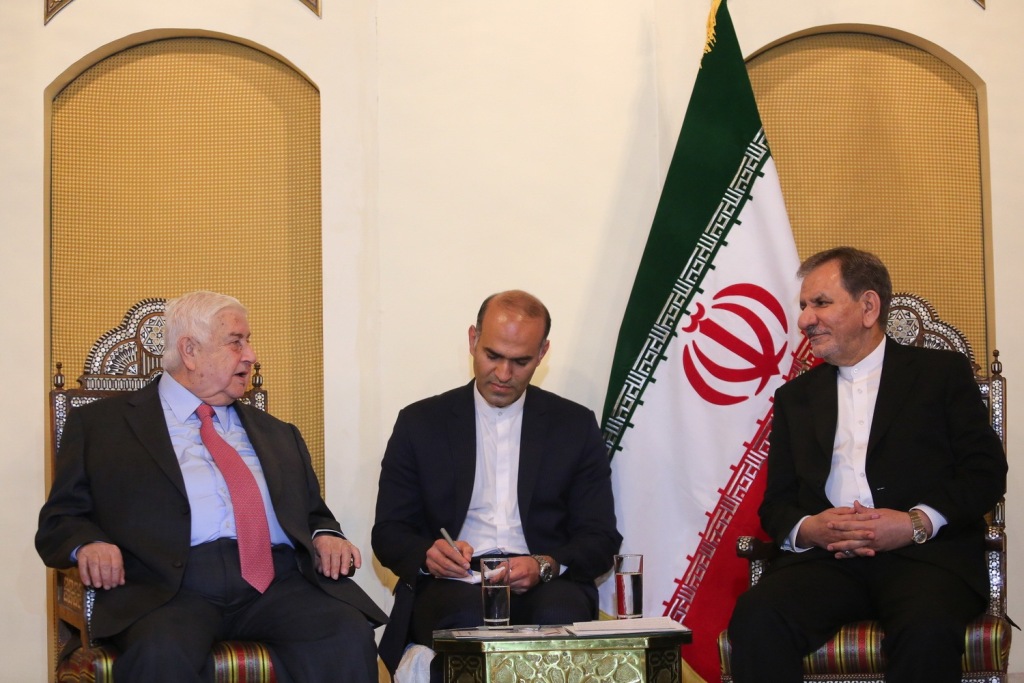 Iran's First Vice President Eshaq Jahangiri stressed that Iranan government and nation will remain alongside the Syrian government and nation until the final victory over the terrorists.
In his meeting with Syrian Foreign Minister Walid Muallem on Tuesday, Jahangiri said that regional changes and developments show that the Syrian government has been able to achieve good victories in countering terrorism, noting that groups that they did not know anything except for violence, murder and plundering, today with the prudence and solidarity of the leadership and the Syrian people and the cooperation of the friendly countries have been defeated and this has many lessons for history.
The senior official said that the victories of the Syrian government and the Syrian people made the supporters of the resistance in the world happy and the enemies were angry.
"The world witnessed, on the one hand, the Zionist regime evidently invaded to the Syrian soil due to its aggressive and on the other hand, the Americans realized that their continued presence in the region was costing them", he highlighted.
Jahangiri said that it is natural that Americans, after failing to pursue their policies to heighten economic pressure and sanctions are trying to compensate for the battlefield's failure at the political table. "This requires that we work together and pursue the political issues so that they do not turn the defeat in the battlefield to victory in the political space,' the official noted.
The First Vice President of Iran emphasized the pursuit of Syrian issues in bilateral, tripartite and Astana talks, saying, 'The issue of the reconstruction of Syria should be on the agenda, and the Islamic Republic of Iran, with the presence of a high-level delegation, showed that it has a resolute decision.
Jahangiri mentioned his talks with the president and prime minister of Syria and, while praising regional and international perspectives of the country's foreign minister, said the provision of space for the private and public sectors and the activation of businessmen and chambers of commerce could accelerate helping to rebuild infrastructure in Syria.
Syrian Foreign Minister Walid Al-Mualm, for his part, also said at the meeting, 'Syria and Iran are at the united front in fighting terrorism and global arrogance which the US and the Zionist regime are at the forefront.'
'We are asking Iran to stay until the ultimate victory over the enemies and rebuild the country alongside the Syrian government and people,' he said, referring to the TV broadcasting of the words of the first vice president of Iran in Syria.
'Iran and Syria have achieved great achievements after victory over the terrorists, and today they have to go through this stage by developing economic cooperation in difficult circumstances,' Muallem said.