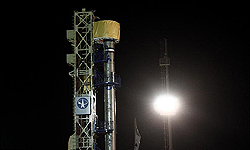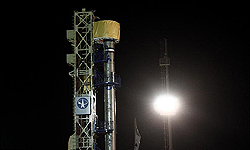 Iran plans to display its new achievements in space fields by sending heavier home-made satellites to higher altitudes by the next few years.
There would be a new round of space progression in Iran by 2013. Iran plans to send Tolou (Rise) and Fajr (Dawn) satellites into orbit and improve satellite carriers by efforts made by experts in this regard.
Iran would be able to put satellites into orbit of up to 36000 km.
The Iranian students news agency quoted a spatial expert Rezaei as saying that Safir B1 two-phased satellite carrier is capable of launching satellites weighing more than 60 kg to 350-450 km of the oval orbits and has made a huge progress comparing to Safir A1.
He added Safire B1's engine, fuel, guide and control system differ from its previous version.
Rezaei noted Navid (Promise) satellite was launched by Safire B1 and was placed in the exact position in its orbit, as stressing the locally-made satellite carrier Simorgh would be built soon.
The spatial expert added Simorgh two-phased satellite carrier which is capable of carrying satellites with 100 kg to 50 km orbit, possesses 4 engines and final tests are implemented on it.
Rezaei stressed Tolou satellite built by Iran's electronic industry affiliated with defense ministry would be launched by Simorgh satellite carrier built by air and space industry of defense ministry.
He added Iran's next locally-made satellite would be Fajr satellite which is to be sent into space in the near future.