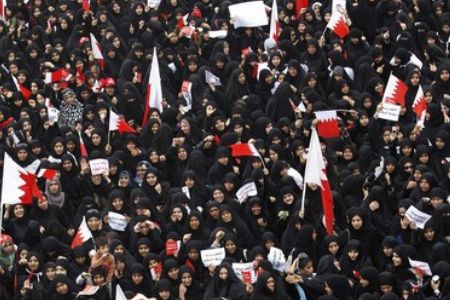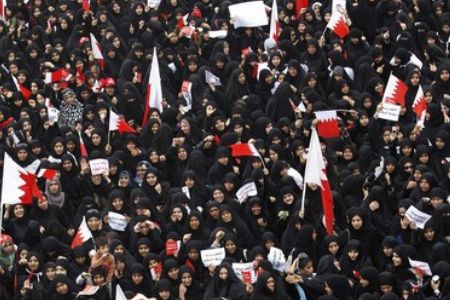 Iran plans to send a solidarity convoy to Bahrain as a violent crackdown by Saudi-backed Bahraini forces on anti-government protests has left many killed and wounded in the country.
Head of Iran's Association of Islamic Revolution Followers, Mehdi Eghrarian, said in Tehran on Tuesday that the convoy will leave the Iranian southern port city of Bushehr on board a ship on May 16, a Press TV correspondent reported.
He added that the move is aimed at condemnation of brutal crackdown on anti-regime protesters in Bahrain.

Eghrarian pointed out that the ship will be named after Bahraini poetess, Ayat al-Ghermezi who was raped and killed by Saudi-backed regime forces. He called on activists from other countries to join the convoy.
He furthered said that Iran's Association of Islamic Revolution Followers is a non-governmental organization that focuses on the cultural issues of the Muslim world.
The report comes as Bahrain's main opposition party, al-Wefaq, says over 30 holy sites have been destroyed since the anti-regime protests began in the Middle eastern in mid-February.
On March 13, Saudi Arabian forces were dispatched to the tiny Persian Gulf island at Manama's request to help crush the nationwide protests.
Since the beginning of Bahrain's revolution, thousands of anti-government protesters have poured into the streets across the country, calling for an end to the rule of the Al Khalifa dynasty.
According to local sources, dozens of people have been killed and hundreds arrested so far during the government clampdown on the peaceful demonstrations.
Rights groups say government forces have even raided hospitals and tortured doctors and patients as part of their efforts to suppress protest rallies and punish those that provide medical treatment to the injured in the brutal crackdown. Over 30 medical workers have so far gone missing since the uprising began.
Amnesty International says it is concerned about the fate of missing activists in Bahrain and the fact that detained protesters are being tortured there with impunity.