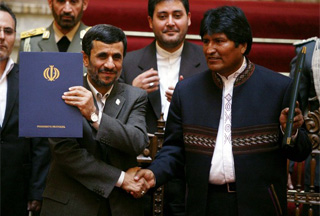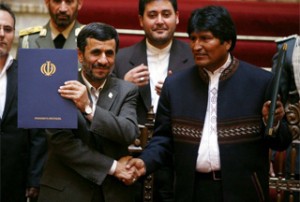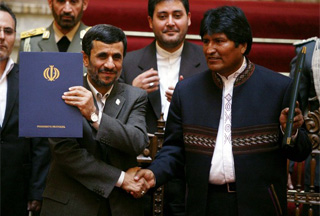 Iran has signed a deal with Bolivia to help the Andean nation do research on exploiting lithium in Salar de Uyuni desert.
Bolivian President Evo Morales and his visiting Iranian counterpart Mahmoud Ahmadinejad signed a number of agreements to deepen ties.
After signing the agreements in La Paz, Iranian President Mahmoud Ahmadinejad said that the deals were part of his country's efforts to boost cooperation with Bolivia.
Bolivia possesses the world's largest lithium reserves — a lightweight metal used in electric cars and other batteries.
Iranian experts, Brazil's Ministry of Science and researchers from companies such as France's Eramet SA and Bollore SA will hold a joint study on the lithium reserves.
Iran will also build blood dialysis centers in the cities of El Alto and Cochabamba with an estimated cost of $1 million.
During his short visit to Bolivia, Ahmadinejad inaugurated a hospital and a milk processing plant financed by Iran.
"Although there's a large geographical distance between our countries, I want to assure you that our hearts, our thoughts and our ideals are very close," Ahmadinejad said.
Ahmadinejad said that Iran's National Oil Company is scheduled to open an office in La Paz to increase Tehran's presence in the Bolivian oil and gas industry.
Ahmadinejad, who started a five-nation tour on Sunday, left Bolivia on Tuesday afternoon for Venezuela to meet with President Hugo Chavez.