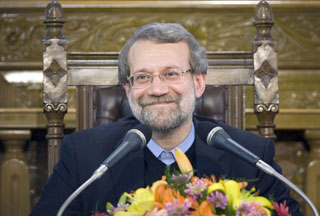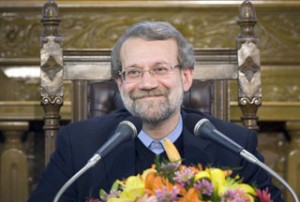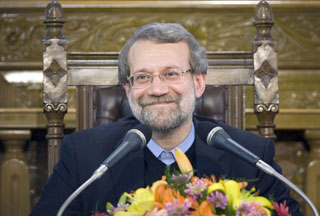 Iranian Parliament Speaker Ali Larijani has announced the Islamic Republic will study a Japanese offer to enrich uranium for Tehran.
"It has the substance to be worth discussing. We want to deepen the discussion on it," Nikkei Business Daily quoted Larijani as saying in Tokyo late Wednesday.
According to an earlier report by the Japanese newspaper, Tokyo made the offer in December while Iran's top nuclear negotiator, Saeed Jalili, was visiting the country.
On Wednesday, Japanese Prime Minister Yukio Hatoyama told the Iranian parliament speaker that Teheran should implement UN Security Council resolutions and fully cooperate with the International Atomic Energy Agency (IAEA) "to remove all the doubts about Iran's nuclear development."
Hatoyama further pointed out that Japan regards Iran as "an important country" and wishes to further enhance bilateral relations.
Larijani, for his part, denied that the Islamic Republic was seeking weapons of mass destruction as claimed by the United States and its allies.
On Saturday, the Iranian official is scheduled to visit the western Japanese city of Nagasaki, which was hit by an American atomic bomb at the end of World War II, three days after a US nuclear attack devastated nearby Hiroshima.
Iranian President Mahmoud Ahmadinejad announced on February 11 that Tehran has successfully managed to complete the production of its first stock of uranium enriched to 20 percent.
"We have produced the first batch of 20 percent enriched uranium at the Natanz enrichment facility," Ahmadinejad said at a rally marking the 31st anniversary of the Islamic Revolution in Tehran.
Iran says that it is a signatory of the Nuclear Non-Proliferation Treaty (NPT) and, unlike Israel, neither believes in atomic weapons nor, as a matter of religious principle, intends to access such weapons.
Furthermore, Tehran has repeatedly called for the elimination of all weapons of mass destruction throughout the globe.
Iran's nuclear facilities and enriched uranium remain under the supervision of IAEA inspectors, as outlined in the NPT Safeguards Agreement.
The UN nuclear watchdog has carried out the highest number of inspections in Iran, compared to any other country throughout its history and has found nothing to indicate any diversion toward weaponization.