Technology
Iran to Unveil Aerospace Achievements in Days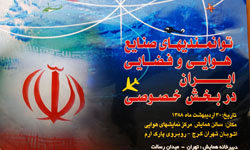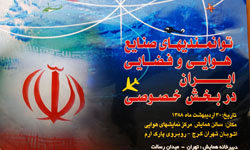 Amir Kabir University of Technology is slated to unveil the two latest aerospace achievements of Iran this week.
The national website of aerospace documents and microsatellite color-imaging project are slated to be unveiled concurrent with holding the 12th Iranian Aerospace Society Conference at Amir Kabir University of Technology on February 19-21.
Head of Iran's Space Agency (ISA) Hamid Fazeli, Iranian Deputy Defense Minister and Head of Iran's Aerospace Organization General Mehdi Farahi, Managing-Director of the Iranian Aviation Industries Organization (IAIO) Manouchehr Manteqi, and Chancellor of Amir Kabir University of Technology Alireza Rahayee will attend the unveiling ceremony.
Aerodynamics and propellers, aviation management, flight dynamics and control, space science and technology, aerospace structures and aviation management are among the topics to be discussed in the Iranian Aerospace Society's 12th Conference.
Earlier this month, the head of Iran's Space Agency said the country will send new satellites made by Iranian universities to the space in the next few months.
"We expect to be able to launch Sharifsat by the end of this (Iranian) year (ends March 20) because the satellite will be delivered to us by Esfand (February 19 – March 20)," Fazeli told FNA, adding that the infrastructure needed for the satellite has already been prepared.
Tehran's Sharif University is working to build Sharifsat.
Also earlier this month, Iran unveiled the prototype models of Zohreh and Nahid telecommunications satellites on Monday.
The prototype models were unveiled during a ceremony attended by Iranian President Mahmoud Ahmadinejad, Defense Minister Ahmad Vahidi and the head of Head of Iran's Space Agency at an exhibition on Iran's latest space achievements and technologies here in the capital.
In November, the chancellor of Amir Kabir University of Technology announced the country is preparing to put a new home-made satellite, called Nahid (Venus), into orbit in the next three months.
He said researchers at Amir Kabir University of Technology have accomplished part of the studies on the satellite which is to be launched into space in next three months with the backing of the ISA.
Rahayee noted that the industrial phases of the project have been accomplished and researchers are now working on the launch phase.