Iran
Iran to Unveil New Naval Cruise Missile, Air-Launched Achievements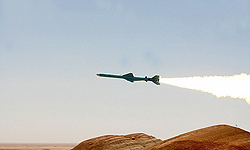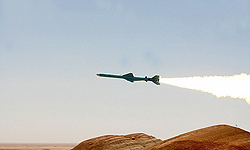 Iran plans to unveil its latest home-made naval cruise missile as well as four air-launched achievements in the near future, an Iranian defense industry official announced.
"We will unveil a new cruise class naval missile in the near future," Head of the Defense Ministry's Aerospace Industries Organization General Seyed Mehdi Farahi told FNA on Wednesday.
"The missile is an optimized version of the previous missiles which can boost our defensive power in sea battles," Farahi said, adding that the new surface-to-surface missile is more powerful than the previous version and enjoys a longer range.
The defense ministry official further said that Iran will also display 4 news air-launched achievements tomorrow on the occasion of the National Army Day on Farvardin 29 (April 18).
He further said that Iran will display its achievements in ballistic, cruise and anti-armor missiles later this Iranian year (March 21, 2013 – March 20- 2014).
Yesterday, a senior Iranian defense ministry official said that Iran's anti-ship ballistic missile power has forced the US warships in the Persian Gulf to retreat from their positions.
Addressing a group of Iranian soldiers here in Tehran on Tuesday, Deputy Defense Minister General Majid Bokayee said Iran designed and developed home-made anti-ship ballistic missiles because this kind of missile can target enemy vessels easily.
"We managed to employ the ballistic missiles which had previously been designed and produced for ground-to-ground missions for targeting enemy ships, and then we witnessed the US naval fleets' retreat in the Persian Gulf after the first test on the missile," Bokayee stated.
In July 2012, Iran's supersonic anti-ship ballistic missiles, 'Khalij-e-Fars (Persian Gulf)', displayed their 100 percent precision capability after hitting and destroying the specified targets in the last phase of the Payambar-e Azam 7 (The Great Prophet 7) drills.