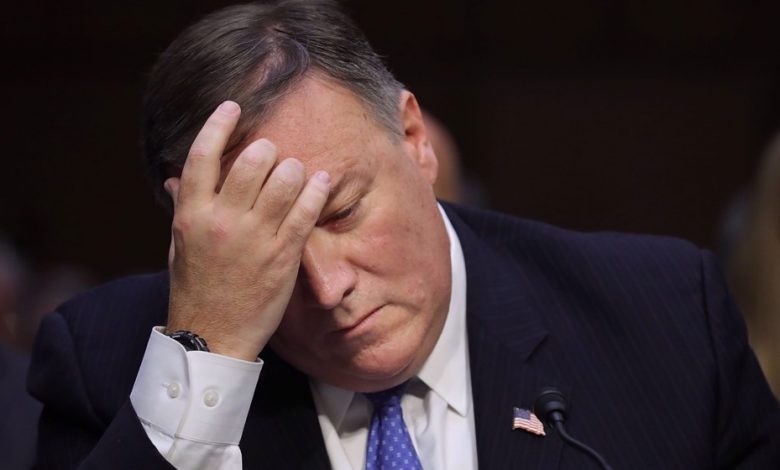 Iranian Foreign Ministry Spokesman Saeed Khatibzadeh has lashed out at the US for resorting to "cheap propaganda" to whitewash the Donald Trump administration's failure in its so-called maximum pressure campaign against Tehran.
In a post on his Twitter page on Wednesday, Khatibzadeh reacted to a recent tweet by outgoing US Secretary of State Mike Pompeo who claimed victory against Iran and bragged about Washington "initiating a campaign of maximum pressure" by re-imposing sanctions on Tehran.
Pompeo also accused Iran of instigating instability and terror and threatening the US and its allies.
In response, Khatibzadeh described the Trump administration's policy on Iran as "maximum failure," welcomed its departure and said the world has "refused to be held hostage to your bullying."
After 4 years of "Maximum Failure", @SecPompeo is desperately turning to cheap propaganda to dress up the disaster he has promoted and instigated as a success.

News flash: People aren't naive. And the world has refused to be held hostage to your bullying. Good riddance.— Saeed Khatibzadeh (@SKhatibzadeh) December 30, 2020
In its last days at the White House before the inauguration of the new government in the US, the Trump administration has been ratcheting up its pressure on Iran, threatening the country to bow to its bullying, all to no avail.
The Trump administration initiated tension with Iran by pulling out of a landmark nuclear agreement between Tehran and major world powers in 2018 and reinstating sanctions against the Islamic Republic.
Washington added fuel to the fire of animosity towards Tehran by assassinating Iran's top anti-terror commander Lieutenant General Qassem Soleimani in January 2020, under a direct order from the US president.
In addition to impeding trade with Iran, the US did not shy away from its sanction policy against Iran amid the coronavirus pandemic, and blocked the country's access to its overseas funds to prevent it from buying medicine and medical equipment.
Besides threatening Iran time and again, the US has also sent forces and military equipment to the Persian Gulf region in its declared claim to protect its interests against what it calls Iran's threat.
Last week, a nuclear-powered submarine arrived in the Persian Gulf amid rising tensions between Tehran and Washington ahead of the first anniversary of the US assassination of General Soleimani.
US Navy officials said the USS Georgia had entered the Strait of Hormuz accompanied by two American warships, making it the first missile-loaded submarine of its kind to travel to the Persian Gulf in eight years.
Iran has raised the alarm about suspicious moves by the United States in the region, warning that Washington bears responsibility for the consequences of any adventurism.