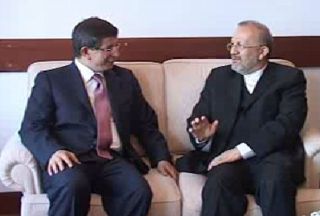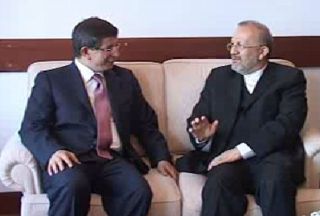 Iranian Foreign Minister Manouchehr Mottaki and his Turkish counterpart Ahmet Davutoglu have lauded Tehran's fuel swap declaration as a suitable opportunity for peaceful nuclear cooperation.
During a meeting in Portugal, the two ministers discussed bilateral issues, the possibility of a nuclear fuel swap and Tehran's declaration on the exchange, IRIB reported Thursday.
The two countries' officials said the Tehran declaration offered significant potential for peaceful nuclear cooperation.
The meeting was held as the Iranian foreign minister is on a tour of Europe that first took him to Spain and later to Portugal.
During his stay in Portugal, Mottaki met with the country's top officials including his counterpart Luis Amado on Tuesday. The two ministers discussed major regional and international developments including Iran's nuclear program.
The Portuguese official said the positive atmosphere created after the issuance of Tehran's declaration could lay the ground for peaceful nuclear cooperation.
Iran, Brazil and Turkey issued a joint nuclear fuel swap declaration on May 17, based on which Tehran agreed to exchange 1,200 of its low-enriched uranium on Turkish soil with fuel for its Tehran research reactor.
The US and its European allies snubbed the declaration and, in less than a month after its announcement by the Tehran government, the UN Security Council imposed new sanctions on Iran over its nuclear work.
Iran has condemned the sanctions, saying that punitive measures could only hurt the positive atmosphere of cooperation created by the Tehran declaration.