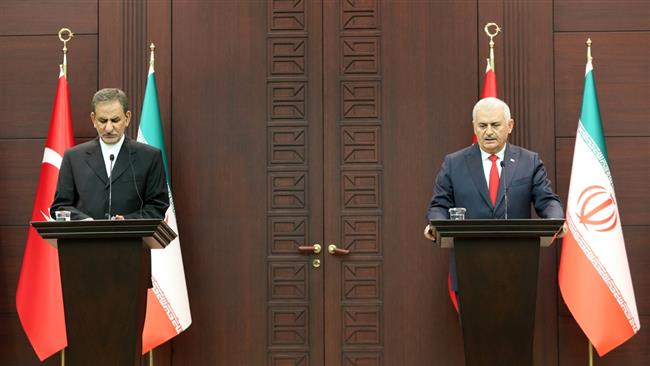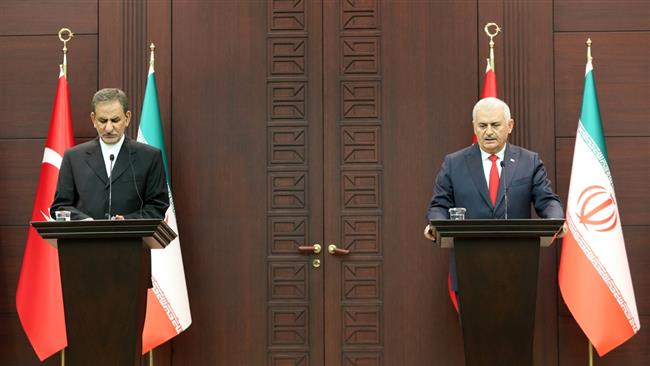 Iran and Turkey have finalized what could be a historic deal to trade in their local currencies instead of the euro and the dollar.   
The deal was signed between the central banks of the two countries during a visit to Turkey by Iran's First Vice President Es'haq Jahangiri.
It is expected to help Tehran and Ankara to triple the volume of their trade activities to as high as $30 billion from current $10 billion among other strategic benefits.
"Trading with local currencies is the most significant step to improving economic ties. The central banks of both countries agreed on this issue and they will inform other banks about how the deal will be applied," Turkey's Prime Minister Binali Yildirim was quoted by media to have told a joint news conference with Jahangiri.
"Trading in local currencies will be encouraged and this will contribute to making trading easier and increase the trade volume and diversity," Yildirim added.
Iran and Turkey signed an initial agreement on the same front earlier this month during a visit to Ankara by Valiollah Seif, the governor of the Central Bank of Iran (CBI).
"Based on it, Iran's Rial and Turkey's Lira can be easily converted into each other and merchants on both sides of the border can accordingly use those currencies for their trade activities," Seif had been quoted by the media as having told the reporters during his stay.
The official had emphasized that this could help reduce the costs relating to the conversion as well as the transfer of currencies.
He had also added that the banks of the two countries can use the international payment tools to convert currencies into Rials and Liras.
The deal allocates a credit line of 5 billion Liras and its equal amount in Iranian Rials. It would be used to facilitate the proceedings for the opening of letters of credit by merchants on both sides of the border.
The central banks of Iran and Turkey further agreed to work together to create a switch platform to connect their banking networks thus enabling citizens to use the services of their respective lenders in both countries.
The currency swap deal with Turkey is the first of its kind that the Islamic Republic has sealed in what appears to be a cornerstone of the country's strategic plans to reduce its vulnerability to US economic pressures.
Even now that the US-led sanctions against Iran have been removed, the country is still grappling with Washington's bans that restrict the country's access to the dollar.
The same bans are believed to have been instrumental in keeping foreign investors away from the vast Iranian investment potentials.