Asia-Pacific
Iran
Middle East
Turkey
Iran, Turkey, Pakistan plan to revive railway line: Report
Iran, Turkey and Pakistan plan to revive a railway line connecting Istanbul to Tehran and Islamabad and ultimately extend to China, Tokyo-based newsmagazine Nikkei Asia reports.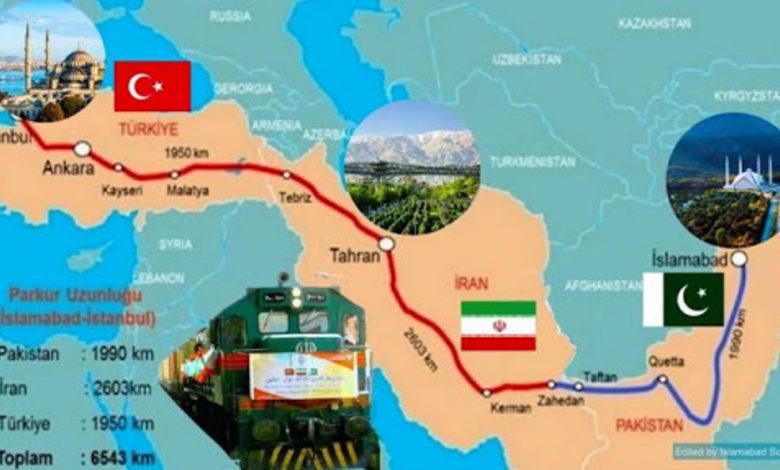 The three countries launched a container train service in 2009, but it only got as far as test runs and was never fully operational.
Even so, they always planned to follow up the initial freight trains with passenger services and are now willing to launch the ITI transnational line with the aim of enhancing connectivity with China's Belt and Road Initiative (BRI), the report said.
The railroad service, stretching for 6,540 km, will cut the 21-day journey by sea between Pakistan and Turkey to 10 days. And by extension, it will connect to China's Xinjiang autonomous region which is populated by ethnically Turkic Uighur Muslims, Nikkei said.
According to Lukasz Przybyszewski, a West Asia analyst for the Asia Research Center at Warsaw's War Studies Academy, the ITI railroad would further boost China's Belt and Road Initiative (BRI), a trillion-dollar plan to connect the infrastructure and economies of countries across Asia, Africa and Europe.
Przybyszewski believes that Beijing regards Iranian transport infrastructure in particular as part of BRI. But a flurry of investment plans in Iran by China was put on the back burner when the US reimposed sanctions on the Islamic Republic in 2018.
Experts believe the ITI railroad will help Iran move around US sanctions, Nikkei said. "For Tehran, this is an attractive alternative trade route because the ECO countries trade in local currencies," Przybyszewski told the publication.
ECO stands for the Economic Cooperation Organization, a 10-member political and economic intergovernmental organization founded in 1985 by Iran, Pakistan and Turkey.
Under President Donald Trump, the United States has been following a policy of "maximum pressure" against Iran in order to isolate the country through severing all modes of international trade with the country.
However, Przybyszewski believes it is "practically impossible to isolate and stop Iran from trading with its neighbors".
According to the expert, infrastructure projects such as the ITI railroad will stimulate the Iranian economy, and new railway connections will offer greater flexibility going forward.
Last year, China took a major step to upset the United States in its efforts to isolate Iran economically by committing to several hundred billions of dollars in investment in the Islamic Republic.
China updated a 25-year deal signed with Iran first in 2016 that foresees $400 billion of Chinese investment in the resource-rich Middle Eastern nation.
According to analysts, the deal represents "a potentially material shift to the global balance of the oil and gas sector" and could mark a "seismic shift in the global hydrocarbons sector" where no US dollars will be involved in commodity transaction payments.
The central pillar of the new deal is that China will invest $280 billion, developing Iran's oil, gas and petrochemicals sectors. There will be another $120 billion investment in upgrading Iran's transport and manufacturing infrastructure.
Officials have said China's close involvement in the build-out of Iran's manufacturing infrastructure would be entirely in line with its mammoth One Belt, One Road initiative.
The Asian giant, they say, intends to utilize the low cost labor available in Iran to build factories, designed and overseen by large Chinese manufacturing companies, with identical specifications and operations to those in China.
The idea is to ship Chinese products to Western markets by using Iran's transport infrastructure.
Beijing's biggest transportation project in Iran is worth $1.5 billion to electrify the rail line from Tehran to Mashhad for a length of 926 kilometers.
There are also plans to establish a Tehran-Qom-Isfahan high-speed train line and to extend this upgraded network up to the northwest through Tabriz.
The railway is part of the 2,300-kilometer New Silk Road that will link Urumqi in China's resource-rich Xinjiang province to Tehran, connecting Kazakhstan, Kyrgyzstan, Uzbekistan and Turkmenistan along the way and extending to Europe via Turkey.
Tabriz, home to a number of key oil, gas and petrochemical and other industrial sites, and the starting point for the Tabriz-Ankara gas pipeline, will be a pivot point in the route.