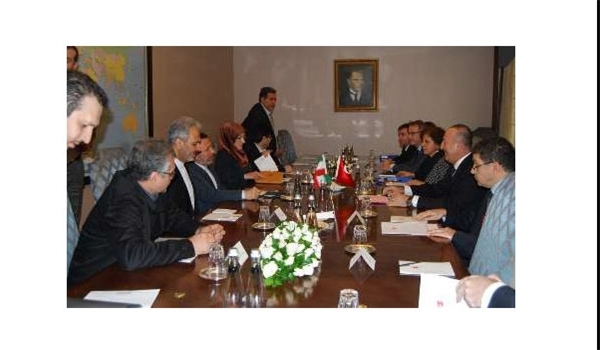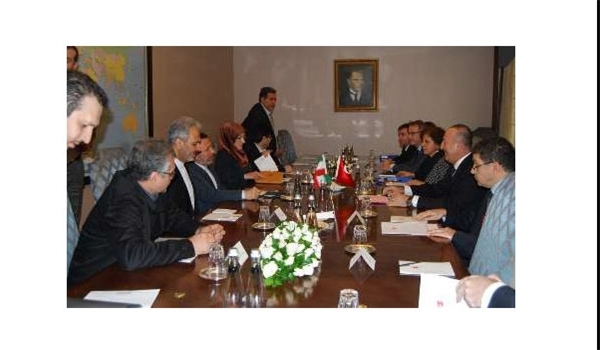 Senior Iranian and Turkish officials in a meeting in Ankara on Tuesday underlined the need for following up implementation of bilateral economic and trade agreements.
During the meeting in the Turkish capital today, Iranian Minister of Communications and Information Technology Mahmoud Vaezi and Turkish Foreign Minister Mevlüt Çavuşoğlu underlined the need for the further expansion of mutual cooperation.
Vaezi is on an official visit to Turkey at the invitation of Turkish Development Minister Cevdet Yilmaz.
The Iranian minister of communications and information technology is slated to meet his Turkish counterpart Lutfi Elvan, Turkish Economy Minister Nihat Zeybekci and Turkey's Minister of Science Fikri Isik during his two-day visit to Turkey.
The two Muslim neighbors have been pursuing increasing widening of their ties in various fields in the last two decades. Iran is a main energy supplier to Turkey and Ankara has made huge investments in Iran.
Iran is a main destination of Turkish goods and Turkey is among the top destinations of Iranian tourists and traders.
The two states plan to multiply their trade transactions in the next few years.
In November, Iran's Ambassador to Turkey Bigdeli underlined that Tehran and Ankara have to increase their efforts to reach their planned objectives for 2015.
"Preferential trade, using national currencies in trade exchanges, improving the conditions at border passages and terminals, improvement of financial and monetary cooperation, reciprocal tourism ties, and cooperation in energy and defense sectors should be added to the existing cooperation to move along the targeted path," Bigdeli said.
In October, Turkish Ambassador to Tehran Reza Hakan Tekin in a meeting with Vaezi underlined that his country doesn't receive any permission from foreign states for broadening its relations with Iran.
Iran in addition to being a neighbor, having long joint borders and deep age-old, cultural and political ties is a trade partner of Turkey as well, Hakan Tekin said during the meeting in Tehran.
For the expansion of relations and cooperation with Iran, Turkey will not receive permission from any country outside the region, he added.
Hakan Tekin referred to the firm determination of the Turkish government to make efforts for the expansion of its relations with Iran in the economic, trade, transportation and energy fields, and said he is determined to take steps towards removing bottlenecks which hinder promotion of relations.
Vaezi, for his part, said that relations between Iran and Turkey should not be halted due to subsidiary issues, adding that through constant meetings and direct talks measures should be taken to remove impediments.