Iran
Middle East
Iran Unveils Advanced Military Products for Ground Combat
The Iranian Army in a ceremony on Thursday unveiled five new home-made hi-tech military products to enhance power of the ground troops in anti-terrorism battles and other war theaters.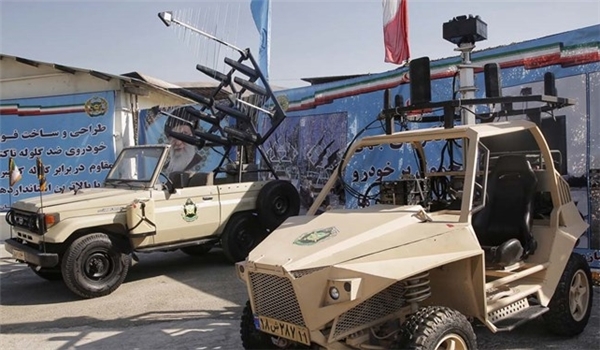 Army Deputy Commander Brigadier General Mohammad Hossein Dadras and Commander of the Army Ground Force Brigadier General Kioumars Heidari attended the ceremony.
One of the unveiled achievements is a state-of-the-art light vehicle, namely 'Rouintan' (immortal), which is resistant to steel core bullets. It has the defense standards of Iran, is surprisingly agile and powerful, and fully protects the passengers. The vehicle can be used in fighting against terrorists or in classic battlefields.
Also, Heydar 1 smart robot was unveiled today. It has six active wheels, can carry loads and turn 360° and detects obstacles on its path.
Another important product of the Army unveiled on Thursday is Farpod drone, a small hand-launched drone used for reconnaissance and rapid reaction operations. It is equipped with auto-pilot and can take pictures round the clock.
Meantime, a domical jamming system with the capability of being mounted on vehicles and fixed areas and detecting the targets on monitor as well as a system to guide and control anti-armor 'Labeik 1' missiles which enjoy precision-striking power were unveiled today.
The Iranian Armed Forces had on September 22 displayed and unveiled new types of missiles, equipment and air defense systems developed by the country's experts during the military parades.
During the parades in Tehran, the home-made version of the sophisticated Russian S-300 missile defense system, dubbed as Bavar (Belief) 373 with the capability to confront threats in high-altitude, distant areas, ballistic missiles, cruise missiles and drones was displayed.
Also, the Iranian Armed Forces showcased the home-made state-of-the-art missile defense system named 'Khordad 15' which is equipped with passive phased array radar system for detecting fighter jets, stealth targets and cruise missiles.
The system can trace targets, including fighter jets and enemy drones, 150km away and intercept them at a range of 120km.
It can also trace stealth targets in areas 85km in distance, and destroy them at a distance of 45km.
The missile defense system can trace, engage, and destroy 6 targets simultaneously, enjoys high mobility and can be prepared for operation in less than 5 minutes.
Meantime, the latest version of the warhead used in the long-range ballistic missile of Khordad 15 defense system was displayed in the parades. The missile can carry several warheads up to 1,800kg and has a range of 2,000km.
Also, the IRGC Aerospace Force displayed 18 home-made ballistic missiles, including Qadr, Emad, Sejjil, Khorramshahr and Qiam during the parades.
In addition to the powerful missiles, the Iranian Armed Forces also unveiled a newly-developed home-made mine-resistant ambush protected (MRAP) vehicle for the first time in the nationwide parades.
Also, a new artillery system named 'Ha'el (Barrier)' was for the first unveiled during the parades which is equipped with a passive radar system and can intercept the targets in a stealth mode.
The artillery system is mobile and has been designed to confront low-altitude targets, including cruise missiles, aggressor drones or little flying objects.