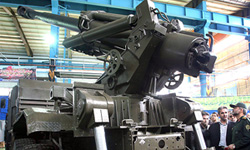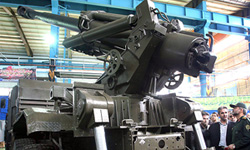 The Iranian defense industries on Sunday unveiled the country's first home-made self-propelled howitzer 155mm artillery.
The new artillery was put on display in a ceremony in the Defense Industries Organization attended by the Iranian Defense Minister Brigadier General Ahmad Vahidi.
Speaking to reporters during the ceremony, Vahidi said that the production of the new artillery was aimed at increasing the mobility of the Iranian armed forces' artillery units.
He added that the ordnance has been developed by Iranian experts at the defense industries based on the strategy and needs of the Iranian Armed Forces.
According to the minister, Iran is the seventh world country which has acquired the technical know-how for producing this type of artillery.
The minister further added that the newly unveiled artillery enjoys a higher speed for reaction, higher mobility, easier repair and maintenance and a lower price than similar types of ordnance produced by Iran earlier.
Tehran launched an arms development program during the 1980-88 Iraqi imposed war on Iran to compensate for a US weapons embargo. Since 1992, Iran has produced its own tanks, armored personnel carriers, missiles and fighter planes.
Yet, Iranian officials have always stressed that the country's military and arms programs serve defensive purposes and should not be perceived as a threat to any other country.