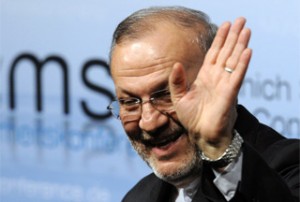 Iranian Foreign Minister Manouchehr Mottaki says Tehran is ready to sign a deal with the major powers to exchange some of its low-enriched uranium for higher-grade fuel.
"Iran sees good prospects for a comprehensive agreement and the aspects of the nuclear fuel swap are being seriously studied," Mottaki said on Saturday on the sidelines of the Munich Security Conference.
He went on to say that the plan to swap Iran's low-enriched uranium for higher-grade nuclear fuel will pivot on supervision by the International Atomic Energy Agency (IAEA).
The fuel exchange can start once an agreement has been reached, he added.
"Tehran has already accepted the idea of striking a deal with the world powers on exchanging some low-enriched uranium for higher-grade fuel for the Tehran reactor to use to produce medical isotopes. However, there are some doubts and suspicions in this regard which must be allayed," Mottaki noted.
The Iranian foreign minister stated that the amount of uranium to be exchanged will be determined by Iran's needs and through dialogue with the main parties involved in the talks on Iran's nuclear program.
"All countries should be allowed to exercise their rights, and there must be a balance between countries' rights and their responsibilities in international bodies. No country should be forced to fulfill its responsibilities while it is stripped of its legitimate rights," Mottaki said.
Iran says that as a signatory to the nuclear Non-Proliferation Treaty, it is entitled to the peaceful application of nuclear energy.
The country expects to generate 17.5 percent — 20,000 megawatts — of the country's electricity demand through nuclear energy over the next two decades.
Over the years, Washington and its allies have accused the Islamic Republic of pursuing a military nuclear program.
However, the IAEA has conducted numerous inspections of Iran's nuclear facilities and has found no evidence of the diversion of nuclear material.