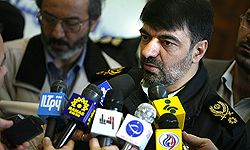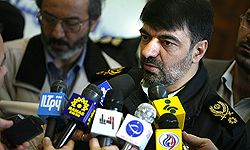 Iran's Deputy Police Chief Ahmad Reza Radan blamed the country's eastern neighbors for their negligent approach towards the spread of terrorism in the region, and urged them to boost security measures along their shared borders with Iran.
"Unfortunately the neighboring countries (of Iran) do not play an effective, if any, role in establishing security," Radan told reporters on Sunday.
He criticized Iran's eastern neighbors for their lack of cooperation with Tehran in boosting security at the joint borders, and said despite Iran's follow-up measures, these states have not cooperated with Tehran in this regard as they could.
The deputy police chief warned that "Iran's patience has its own limits", and said the Islamic Republic of Iran reserves the right to chase and confront the terrorists who create insecurity inside Iran and escape the country through its borders in the East.
He further pointed out that Iran has a three-year plan on its agenda to tighten security controls over its bordering areas, and said the country has decided to adopt further measures within the next three years to block any trespass of its borders by the terrorists.
Iran's decision for intensifying security measures and entanglements alongside its borders followed a series of terrorist operations in its southeastern and eastern provinces by a group of terrorists who escaped the country through its borders with Pakistan after each operation.
In a last case, two bombs blasted in front of the Zahedan Grand Mosque in Sistan and Balouchestan on July 15, killed at least 27 people and injured over 270 more.
The Pakistan-based Jundollah terrorist group, directly sponsored and supported by Washington, claimed responsibility for the attacks.
Iran has repeatedly urged Pakistan to stop terrorists from crossing the two countries' borders and to cooperate in tracking down the terrorists.
The Pakistan-based Jundollah terrorist group has waged several terrorist attacks on Iran and killed a large number of Iranian officials, militaries and civilians.
In 2007, Jundollah kidnapped 30 people in Sistan and Balouchestan province and took them to Pakistan.
Iranian authorities had earlier presented evidence to Islamabad that showed links between Pakistani intelligence services and the Jundollah terrorist group.
The documents were based on the confessions made by Abdolhamid Rigi, the brother of the ringleader of Jundollah, who was hanged a few months ago.
Jundollah's No. one was also arrested and executed by the Iranian security forces earlier this year, but some of the group members are still at large.