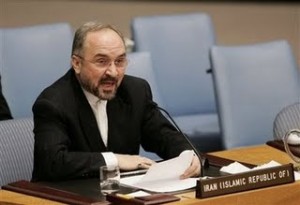 Iran has called on the International Atomic Energy Agency to 'make further efforts' to provide technical assistance to developing countries.
in an address to the UN General Assembly, Iran's Ambassador to the UN, Mohammad Khazaei, said that the IAEA is required to help signatories of the nuclear Non-Proliferation Treaty make use of atomic energy.
The appeal came as Iran is in talks with the IAEA and the major power to buy 20 percent enriched uranium for its Tehran Research Reactor.
Powered by 20 percent enriched uranium, the reactor produces isotopes for cancer care to more than 200 hospitals.
Iran has welcomed foreign cooperation on nuclear fuel supply but has rejected the prospect of sending out the bulk of its stock of enriched uranium in one batch.
"The agency should make more efforts to promote atomic cooperation and provide technical assistance to developing countries," IRNA quoted Khazaei as saying on Monday.
Khazaei also accused certain Western countries of using a selective approach in dealing with other countries' nuclear programs.
"Over the past few decades, these countries have tried to turn the agency into a one-dimensional body to focus only on monitoring and supervisory affairs," he added.