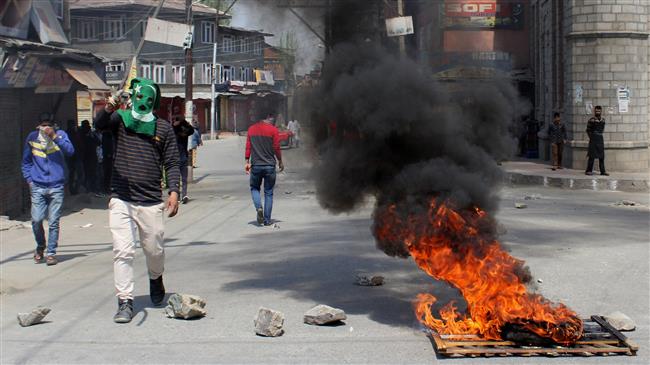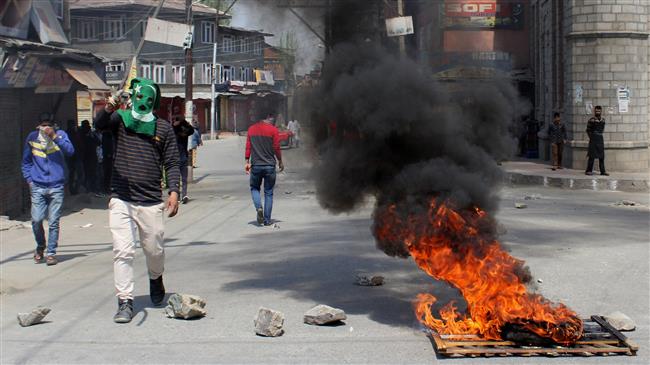 Iran has expressed regret over the recent deadly incidents in Indian-controlled Kashmir, urging the opposing sides to exercise restraint.
"The Islamic Republic of Iran will support any move in line with the interests of the Kashmiri people," Iranian Foreign Ministry Spokesman Bahram Qassemi said on Monday.
He added that Tehran is ready to take "effective steps" to ease tension if requested.
At least 20 people lost their lives in Indian-controlled Kashmir on Sunday in a number of fierce gun battles between Indian security forces and suspected separatist militants in the restive Himalayan region.
At least 20 people have been killed in Indian-controlled Kashmir.
Three simultaneous counter-terror operations in Shopian and Anantnag districts of Jammu and Kashmir, in southern parts of the volatile region, which were launched late Saturday and continue, have killed 13 suspected militants.
According to Indian police on Sunday, three members of security forces also lost their lives in the fighting and four civilians were killed in ensuing violent protests held by locals against the operations.
A day after deadly anti-New Delhi protests and clashes between the army and pro-independence militants, people staged a strike in Indian-controlled Kashmir, parts of which remain under curfew.
Government troops impose clampdown on Indian-controlled Kashmir after latest 'bloodbath'.
Most of Indian-controlled Kashmir was shuttered on Monday due to the Indian army's clampdown and the pubic strike.
Tensions are high in the Indian-controlled region, where the Muslim-majority population stages regular protests against the Indian rule and demands autonomy from New Delhi.
India regularly accuses Pakistan of arming and training militants and allowing them across the restive frontier in an attempt to launch attacks on Indian forces. Pakistan strongly denies the allegation
Last year was the deadliest of the current decade in the disputed Kashmir region, with more than 200 militants killed in a counter-insurgency offensive dubbed "Operation All Out."
Kashmir has been divided between India and Pakistan since their partition and independence from Britain in 1947. The disputed region is claimed in full by both sides, which have fought three wars over it.
New Delhi has deployed some 500,000 soldiers to the disputed region to further boost the security of the borderline and enforce a crackdown on pro-independence demonstrations in its share of Kashmir, where anti-India sentiments are high.