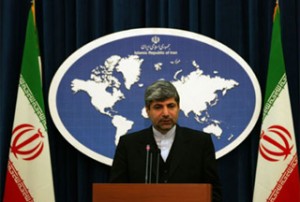 Iranian Foreign Ministry Spokesman Ramin Mehmanparast has warned against any foreign interference in the Iraqi elections.
Mehmanparast said Monday that the election in Iraq was a "domestic" issue and thus any foreign interference could undermine efforts to restore democracy in the country.
"The Iraqi people went to the polls to institutionalize democracy so interference of others would harm this process."
Mehmanparast said the Iraqis' turnout in the election should be taken as a "good omen" for the future of the country, adding that Tehran was ready to contribute to the establishment of peace and stability in Iraq.
More than 6,200 candidates from six major coalitions and several other tribal and ethnic minority groups ran for the parliamentary seats on March 7.
Preliminary results showed former prime minister Iyad Allawi's al-Iraqiya bloc won the parliamentary election with two more seats than incumbent Prime Minister Nouri al-Maliki's own State of Law Alliance.
Maliki has vowed to contest the results through a "legal process", insisting that figures released by the election commission remained "preliminary" and were not yet final.
He had earlier called for a nationwide recount of votes, alleging irregularities in the counting process.
It could take up to two weeks for Iraq's Supreme Court to certify the results, as parties can still submit complaints to the election commission.