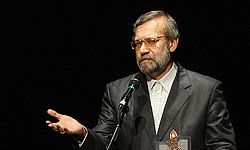 Iran announced that it has not seen any strategic change in the US policies towards Tehran, and called on Washington to display its will for practical changes.
The speeches of Obama at the beginning of his presidency were showing signs of change, but we announced at that time that remarks need to be put into practice," Iranian Parliament Speaker Ali Larijani told reporters on Monday.
Larijani referred to the policies adopted by the US president on international issues, including Iran, Iraq, Palestine and Afghanistan, as instances of Obama's non-compliance with his promises.
He also reiterated that the Islamic Republic of Iran's policy toward Washington is completely transparent.
Iran will continue defending its national interests based on the past US policies towards Tehran, Larijani added.
The United States and Iran broke diplomatic relations in April 1980, after Iranian students seized the United States' espionage center at its embassy in Tehran. The two countries have had tense relations ever since, but have shown willingness to attend talks to help resolve regional issues, including security in Iraq. Yet, the two countries have avoided talks on bilateral issues for the last thirty years.
Obama White House in March tried to offer an olive branch to Iran and repair strained ties of nearly three decades.
Tehran, meanwhile, said it would only consider the promise after seeing practical changes in the US policies.
Later, Supreme Leader of the Islamic Revolution Imam Ali Khamenei, in a televised speech to mark the Iranian New Year, called for a real change in Washington's attitude towards Tehran, saying that the US has shown no practical change in its hostile policies on Iran yet.