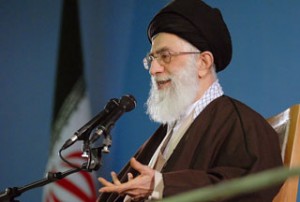 The Leader of the Islamic Ummah and Mustazafins warned Sunday that the UN nuclear watchdog would lose its legitimacy if it folds under pressures exerted by the United States over Iran's nuclear program.
In a meeting with Iran's foreign minister, ambassadors and senior officials, Ayatollah Seyyed Ali Khamenei said Iran had declared from the beginning that the aim of its nuclear work was to develop the technology for civilian purposes, including energy generation.
The West has accused Tehran of seeking nuclear weapons in its pursuit. The allegation has yet to be validated by the UN nuclear watchdog, whose inspectors are monitoring Iranian nuclear facilities extensively.
"Propaganda and furor stemming from the West, including the United States, Britain as well as the Zionists, on [Iran's nuclear program] is absolutely bogus, and they know they are lying, and their opposition will not be in their favor," Ayatollah Khamenei said.
Despite all their efforts, he said, Iran has made significant progress in its nuclear work and will continue its path to the point it deems necessary.
The Leader went on to criticize the recent direction taken by the UN nuclear body about Iran and said, "Some attempts and reports by the [International Atomic Energy] Agency proves that this international body is not acting independently."
"The IAEA should not be under the pressure of the United States and some other countries since such unilateral moves will break trust in the agency and the United Nations," Ayatollah Khamenei said. "It will also damage the reputation of such international bodies."
The Leader also touched upon Iran's approach towards global politics and said that the "anti-hegemony policy" is unique to the Islamic Republic.
"There are two sides in the hegemonic system; one is trying to control others and the other is controlled by the hegemonic power," he said. "However, the Islamic Republic of Iran said from the beginning that it would not be dominant nor would it accept submission."
The Leader stressed that unlike some revolutions the popular movement of the Iranians had not witnessed a decline since the starting days of the Islamic Revolutions.
"Which country do you know of that after 31 years, the participation of the people in its Revolution anniversary [ceremonies], not only does not decline but also sees a sharp increase?"
"The power and influence of diplomacy is no less than the power of military, propaganda and money, it is even greater in many instances."
"Therefore, in order to implement the anti-hegemony policy, one must exercise a robust and practical diplomacy that is based on logic, reason and self-confidence."