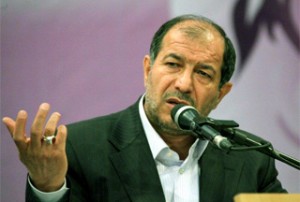 Iranian Interior Minister Mostafa Mohammad-Najjar blames the United States and the Israeli regime for heightening the level of terrorist activities in the world.
"The US and the Zionist regime of Israel promote terrorism in the world and killing people in Guantanamo, Afghanistan and Iraq is a clear examples of such a pattern," Fars News Agency quoted Mohammad-Najjar as saying on Thursday.
"The Islamic Republic has revealed the lies of arrogant powers, especially the US, in various junctures," he added.
"Iran has taken off the ugly masks of the United States and Israel since the 1979 Islamic revolution," he further explained.
"We are very proud of this," the Iranian minister concluded.
Last month, Iranian President Mahmoud Ahmadinejad said the US must explain what its troops are doing in Afghanistan, as fighting terrorism is not possible through a military surge, adding that terrorism can only be fought with intelligence cooperation.
Ahmadinejad made the remark in a joint press conference with his Afghan counterpart Hamid Karzai in Kabul on March 10.