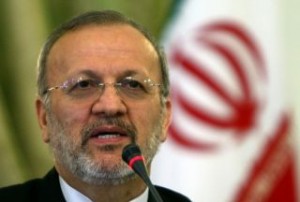 Iran's foreign minister says the US is standing on the brink of defeat over adopting an "immature" stance towards Tehran's fuel swap declaration.
The remarks were made Monday during a meeting with the Turkish Parliament speaker, Mehmet Ali Sahin, who is heading Ankara's first visiting delegation since the May 17 declaration.
Mottaki said "America's response to the tripartite initiative was immature, which on the grand chessboard of international affairs, has brought the United Sates one step closer to a checkmate," read a Foreign Ministry statement.
Hailing Ankara's "diplomatic aptitude", the minister added that the US missed a chance by failing to endorse the fuel swap declaration — an initiative it had earlier touted as productive.
"While encouraging the Brazilian president and the Turkish premier in playing a role in the nuclear fuel swap proposal, the US missed a chance, giving up the real face of US politics to the world," the statement added.
The Turkish official described the declaration as the positive outcome of diplomacy and dialogue, and stressed that Ankara believed the nuclear fuel swap declaration was still on the table.
Iran, Brazil and Turkey issued the declaration following pro-diplomacy talks in May, with Tehran announcing its readiness to ship 1,200 kg of its low enriched uranium to Turkey in exchange for fuel for a medical research reactor.
The US and its European allies, however, went ahead with efforts to impose a fourth round of punitive sanctions on the country over its nuclear program.
Iran insists that as a member of the International Atomic Energy Agency (IAEA) and signatory to the Nuclear Non-Proliferation Treaty (NPT) it has the right to civilian nuclear energy.
The US, however, accuses the country's nuclear program of harboring a secret military aspect.