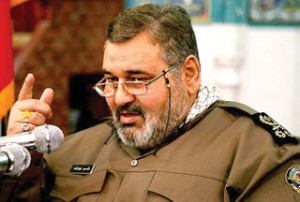 Major General Hassan Firouzabadi, the chief of staff of Iran's armed forces, says the US is trying to wage psychological warfare against Iran by deploying missiles in the Persian Gulf.
Firouzabadi said on Thursday that the recently deployed Patriot missiles in the region will be rendered useless by simple countermeasures.
He said the administration of US President Barack Obama encourages Persian Gulf States to buy overpriced military hardware by spreading Iranophobia in the region.
He noted that the move is a "new plot" by the US to plunder the Arab countries' treasury.
Firouzabadi said that the US has been installing the missiles for years and "we know their locations."
Washington has expanded its missile systems in and around Persian Gulf, claiming that the measure is aimed at beefing up its defenses against possible Iranian missile attacks.
The US deployments include land-based Patriot missile installations in Kuwait, Qatar, the UAE and Bahrain. Washington is keeping two warships in the Persian Gulf supposedly capable of shooting down Iranian missiles.
Iran says the US is trying to drive a wedge between Iran and other Persian Gulf states by ramping up missile defense systems in the region.