Iran
Middle East
North America
Qasem Suleimani
Iran: US Withdrawal from Region Sole Compensation for Gen. Soleimani's Assassination
Iranian President Hassan Rouhani said on Wednesday that the only way the US can make up for the criminal act of assassinating the hero of anti-terrorism fight, Lieutenant General Qassem Soleimani, is to withdraw its troops from the region.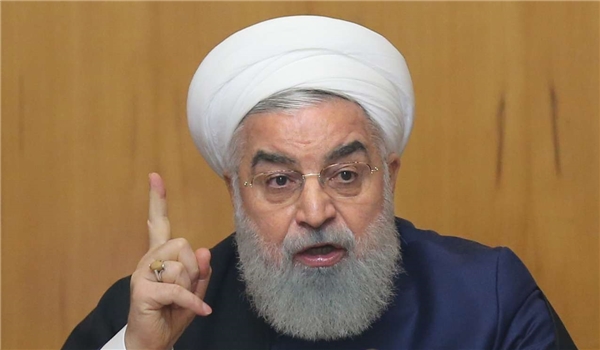 During a cabinet session in Tehran this morning, the president noted that the US troops are not secure in the region, and the insecurity may be inflicted upon European soldiers in the future. "Set this security right. We want you to leave the region; not with war, but with logic."
Referring to the volatile situation the US has sown in the region, Rouhani said, "This insecurity is intolerable, and anything could happen amid such a situation. The sole way to compensate it is that the regional nations become united and resist the real criminals."
"This is for your own benefit. Take the path that is good for the region and the world," Rouhani warned.
President Hassan Rouhani said fomenting insecurity in the Middle East will not benefit any country, calling on the Europeans and the US to refrain from taking a wrong step.
"The United States and Europeans should come back to compliance [to the nuclear deal]," Rouhani said, referring to the European Union's decision to trigger a dispute mechanism under the 2015 Iran nuclear deal – the Joint Comprehensive Plan of Action.
"If you take a wrong step, you will sustain loss; the right move is to come back to the JCPOA," he stressed.
The hero of anti-terrorism fight in the region, Lieutenant General Qassem Soleimani, was brutally assassinated by the terrorist army of the US at Baghdad International Airport on January 03.
Pentagon also martyred Abu Mahdi al-Muhandis, deputy commander of Iraq's Popular Mobilization Forces (PMF), or Hashad al-Shabi, five Iranian, and five Iraqi militaries.
The strike brought the United States and Iran to the brink of war, with Tehran retaliating by launching missiles at military bases in Iraq housing American troops. On Wednesday, Iran fired more than a dozen missiles at two American military bases in Iraq in retaliation for Washington's assassination of Tehran's elite commander.
Iranian officials branded the airstrike an "act of international terrorism" and promised retaliation. Iran has time and again warned that it will not be the initiator of any war, but reserves the right to self-defense and will give a crushing response to any act of aggression by the United States.