Iran
Iran, Vietnam keen to expand all-out ties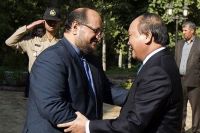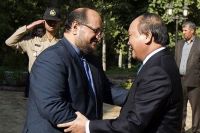 Iranian Vice-President Mohammad Shariatmadari and Vietnamese Deputy Prime Minister Nguyen Xuan Phuc in a meeting in Tehran on Tuesday underlined the need for the further expansion of bilateral ties.
During the meeting in the Iranian capital today, Shariatmadari explored avenues for bolstering and reinvigorating mutual cooperation.
During the meeting, the Iranian vice-president pointed to the status quo in Iran-Vietnam relations, and said, "I hope that Vietnam could make an utmost use of its favorable position in the eyes of the Iranian government and nation to further broaden the bilateral relations."
He underlined that Iran and Vietnam have suitable potentials for deepening their ties.
The Vietnamese deputy prime minister, for his part, pointed to the 40-year history of the Iran-Vietnam relations, and said, "We have always attached paramount importance to the expansion of ties with the Middle Eastern countries and Iran has a special status in this regard.
On Monday, the Vietnamese deputy prime minister underlined that Iran, as a signatory to the Non-Proliferation Treaty (NPT), has the right to advance its nuclear technology for peaceful purposes.