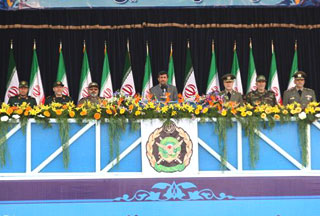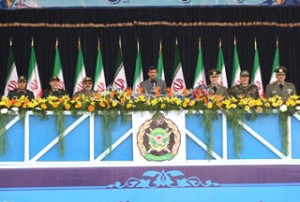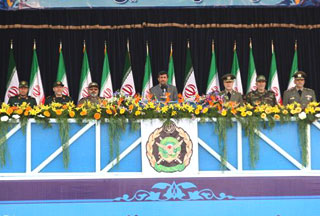 Iran's President Mahmoud Ahmadinejad says the pervasive presence of US-led military forces in the Middle East is the main reason behind regional conflicts.
Ahmadinejad, speaking at a ceremony commemorating Iran's National Army Day on Sunday, said that disunity and strife among Mideast countries stems from the lingering presence of foreign coalition troops and military bases across the region.
"If foreign forces deem themselves capable of promoting security and stability, they should make themselves useful in their own countries," he asserted.
"There is no need, or pretext for foreign forces to prolong their stay in this region," he continued in a reference to the deployment of US and NATO troops in Iraq and Afghanistan.
"Foreign forces should leave this region at once," added the Iranian President. "This is not a request, but a sincere demand of the entire population of the Middle East."
Ahmadinejad singled out Israel as the main instigator of violence and terror in the region.
"The Zionist regime is behind all acts of sedition in the Middle East," he said adding that the regional nations want Israel to be uprooted.
Zionism has begun to collapse under the strain of its "divisive policies in the region," Ahmadinejad added.
The Iranian President also issued a stern warning to foreign powers, saying that while his country has always supported peaceful co-existence with other nations, it is well capable of defending itself in the event of war.