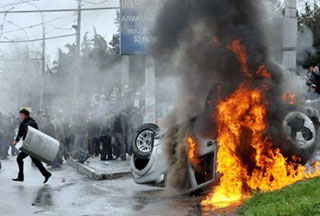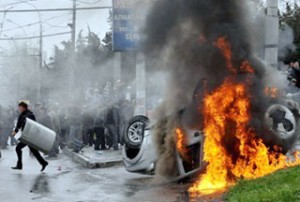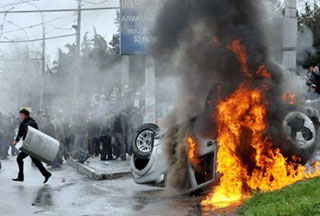 Iran says it supports the restoration of peace in Kyrgyzstan after anti-government protests left 40 people killed in the country.
Foreign Ministry Spokesman Ramin Mehmanparast said Wednesday that Iran "wants the immediate restoration of domestic stability" in Kyrgyzstan and the prevention of the spread of insecurity to this sensitive region of Central Asia.
At least 40 people have been killed and 400 others injured in anti-government unrest in Kyrgyzstan.
The opposition says the unrest is in protest to the government's policy resulting in corruption, nepotism, and high prices.
Angry protesters, numbering in the thousands, have called for the resignation of President Kurmanbek Bakiyev.
They have reportedly killed the interior minister and took the deputy prime minister hostage.
The Kyrgyz government has declared a state of emergency.