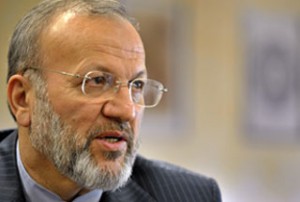 The Islamic Republic of Iran says that no state has the right to interfere in Yemen's internal affairs as the country's crisis in the north has been claiming the lives many people.
Iran's Foreign Minister Manouchehr Mottaki, in a joint press conference with his Sudanese counterpart Deng Alor in Khartoum, said that all countries should respect territorial integrity of Yemen.
The conflict in northern Yemen began in 2004 between Sana'a and Houthi fighters. The conflict intensified in August when Yemen's army launched Operation Scorched Earth against Sa'ada.
The Houthis accuse the Yemeni government of violation of their civil rights, political, economic and religious marginalization as well as of large-scale corruption.
The Saudi air force has further complicated the conflict during the past month by launching its own operations against the Shia resistance fighters.
Saudi Arabia joined the operation after it alleged attacks by Yemeni fighters on its border guards.
The Houthi fighters say that Riyadh has been allowing Yemeni government troops to pound their positions and Saudi forces strike Yemeni village and indiscriminately target civilians there. According to the fighters, Saudis are using toxic materials including white phosphorous bombs against civilians in north Yemen.
But the fighting has incurred headaches for the Kingdom who has lost soldiers as well as military vehicles and ammunitions amid a strong resistance from the Houthi fighters.
Iranian officials have admonished the Saudi government for entering the Yemen conflict.
Mottaki also said that his county is trying to restore peace and security in Yemen, adding the Tehran- Sana'a relation is cordial.
The Iranian top diplomat arrived in Khartoum on Wednesday to discuss issues of mutual interests with Sudanese officials.