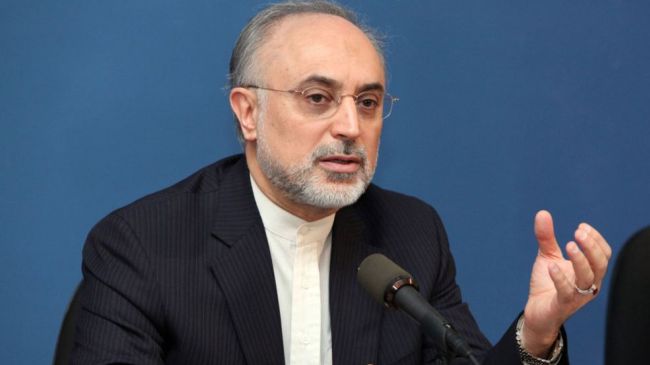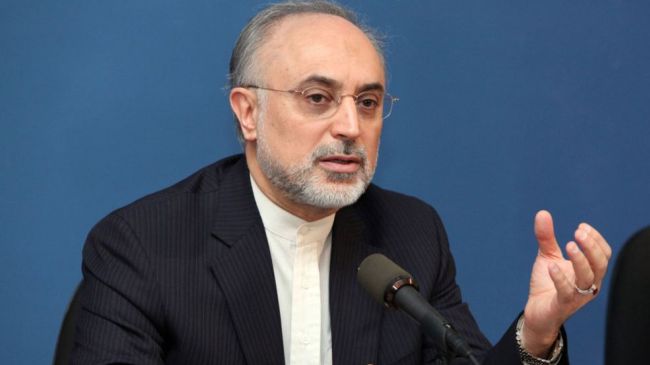 Iran's Foreign Minister Ali Akbar Salehi has warned that any attempt to disintegrate Syria or to cause a potential power vacuum in the Arab country would affect the entire region.
"The Islamic Republic supports Syria's integrity, unity and sovereignty, and everyone should do the same," said Salehi.
He made the remarks in a Monday interview with the Al-Hayat in Jeddah, Saudi Arabia.
The Iranian foreign minister said the Syrian government and the opposition should engage in dialog to reach a political solution to the crisis in Syria.
Salehi reiterated that Iran was against foreign interference in the internal affairs of Syria, adding that the Syrian people should determine the destiny of their country.
The Iranian top diplomat further expressed optimism on "the convergence of views between the United States and Russia" on finding a peaceful resolution to the crisis in Syria.
At a joint press conference in Moscow on May 7, Russian Foreign Minister Sergei Lavrov and US Secretary of State John Kerry agreed to encourage the Syrian government and the foreign-backed militants to politically resolve the crisis. The 'peace conference' on Syria will serve as a follow-up to an earlier Geneva meeting, which was held in June 2012.
Turmoil has gripped Syria for over two years, and many people, including large numbers of Syrian soldiers and security personnel, have been killed in the foreign-sponsored militancy.
Also on Monday, Salehi, who was speaking to reporters in Jeddah, said that his recent talks with Foreign Minister Saud al-Faisal were good and transparent.
Salehi was in Saudi Arabia to attend a ministerial meeting of the Organization of Islamic Cooperation (OIC) Contact Group on the crisis in Mali.
Commenting on the issue of Mali, the Iranian foreign minister said the participants in the OIC meeting exchanged views on the next parliamentary and presidential elections in the African country, as well as the establishment of a new government and the issue of providing Mali with financial aid from the OIC.
Salehi also said Iran was ready to cooperate with the OIC to settle the crisis in Mali.
France launched a war on Mali in January under the pretext of fighting "al-Qaeda-linked extremists."
The war on Mali has caused a serious humanitarian crisis in the northern areas of the country and has displaced thousands of people, who now live in deplorable conditions