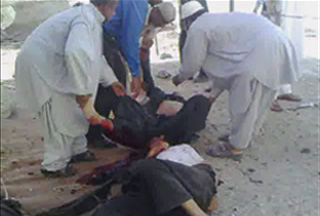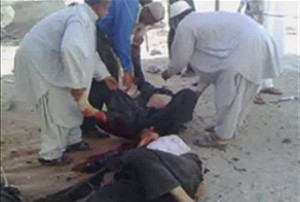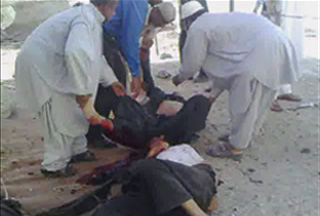 After more than 40 people, including senior commanders of the Islamic Revolution Guards Corps were killed in a terrorist attack in southeastern Iran, one of the country's senior army officials talks of the involvement of the US, UK, an Arab country and an eastern neighbor in the deadly bombing.
Speaking to Mehr news agency on Sunday, Deputy Head of Iran's armed forces headquarters Brigadier-General Seyyed Massoud Jazayeri said such attempts carried out by the enemy were aimed at causing ethnic strife in Iran.
"Terrorist activities particularly in borderline regions, threats and psychological warfare, soft war and even certain military measures in border regions are attempts at replacing unity with discord in our country." Brig. Gen. Jazayeri said.
The remarks came one week after a number of top IRGC commanders and Shia and Sunni tribal leaders were killed in a suicide bombing in the borderline region of Pishin in the southeastern Sistan-Baluchestan Province.
The Pakistan-based Jundullah terrorist group, which is believed to be closely affiliated with the al Qaeda organization, has claimed responsibility for the bombing.
When asked about the role of foreign countries in the recent terrorist attempt, the Iranian army official said certain foreign countries had been involved in the bombing.
"The recent terrorist activities in Sistan-Baluchestan were conducted with the help of the Americans, the British, an Arab country and one of our eastern neighbors. We are well aware of such matters and necessary counter-measures will definitely be taken in response to such acts," Brig. Gen. Jazayeri explained.
Earlier condemning the attack, President Mahmoud Ahmadinejad said the criminals would be punished.
"The criminals will soon get a proper response for their anti-human crimes," he was quoted as saying after the bombing.