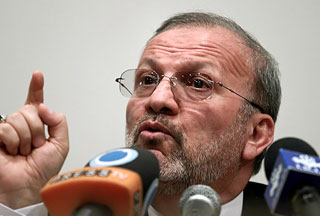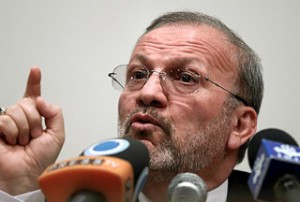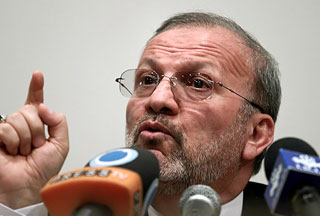 Foreign Minister Manouchehr Mottaki criticizes the UK for its meddlesome policies on Iran and highlights the importance of standing up to London's inhumane and unfair stances.
"The history of Iran-UK relations has many dark episodes … and we have constantly witnessed Britain's meddlesome policies after the [Islamic] Revolution," Mottaki said on Sunday.
"I strongly believe that we should counter Britain's seditious and incorrect policies and Britain should be aware that Islamic Iran will not tolerate such polices and will fight them," he added.
"There are no bright episodes in the history of Iran-UK relations and this country (Britain) has adopted the worst stance on countless issues including the nuclear issue of Iran."
Britain along with two other permanent members of the UN Security Council — France and the US — and Germany have been pushing to impose a fourth round of United Nations Security Council (UNSC) sanctions against Iran in order to force the Islamic Republic to halt uranium enrichment.
This campaign however, has been opposed to by China and Russia, two veto-wielding permanent member of the UNSC, which support diplomacy in dealing with Iran over its nuclear program.
As a signatory to the Nuclear Non-Proliferation Treaty (NPT), Iran says illegal sanctions will not make the country bow to international pressure to abandon its right to enrich uranium for civilian use.