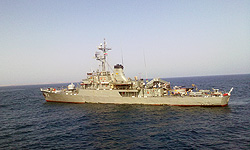 Tehran has rejected reports that it reached a deal with world powers to ship its enriched uranium abroad for further processing, says an official.
Iran's Supreme National Security Council said the assumption that such an agreement had been reached with the P5+1 (permanent members of Security Council plus Germany) during the Geneva talks was untrue.
The Council's Media Secretary Peyman Jebelli made the announcement in an exclusive interview with Press TV.
Jebelli's comments came after some media outlets reported that Iran had agreed to ship low-grade uranium to Russia and have it returned to Tehran after it had been enriched to a level of 20 percent.
According to the reports France would replace the uranium in sealed fuel assemblies that Iran would later use to operate a Tehran reactor which produces medical isotopes.
Iranian officials say, however, that the offer to "purchase" 20 percent enriched uranium is what would be discussed at an October 18 meeting with the IAEA, stressing that the session would have nothing to do with the Geneva talks.
Iran says that it will take the best offer from either of the sales candidates, which include Russia, France and the United States.
On Thursday, diplomats from Iran and the six world powers (China, Russia, the US, Britain, Germany, and France) took part in the first session of a new round of wide-ranging talks over global issues that is to continue through October in Geneva.