Iran
Iran: We're Able to Destroy "Israel" Alone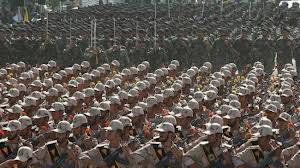 Commander of Iran's Army Major General Ataollah Salehi brushed aside "Israel's" stepped-up warmongering rhetoric against Iran, saying the Zionist entity lacks the capability to launch a military strike on the country.
""Israel" is too weak to pose a threat against Iran," Salehi told reporters on Thursday on the sidelines of a ceremony on the occasion of the National Army Day.
"The Army of the Islamic Republic of Iran gives a swift and crushing response to any aggression by enemies against our country with full preparedness," he said.
He added that no attention should be paid to the "Israeli" threats against Iran.
Salehi said the US and "Israel" are Iran's enemies and emphasized, "If they seek to commit a folly and implement their threat against Iran, we will not hesitate to give response to them."
In response to a question about a possible go-it-alone "Israeli" attack on Tehran, the Iranian commander reiterated that Iran's Army is ready to solely stand against the Tel Aviv regime.
The Iranian commander's remark came after the "Israeli" military chief on Tuesday repeated military threats against Iran, saying the regime can invade Iran on its own.
"We have our plans and forecasts… If the time comes we'll decide" on whether to take military action against Iran, he said.
Similarly, Chief of Staff of the Iranian Armed Forces Major General Hassan Firouzabadi downplayed the importance of the warmongering statements made by the West about the possibility of military option against Iran.
"Such remarks just serve political and psychological purposes," he added.
Speaking to reporters on the sidelines of the Iranian army parades, Firouzabadi said the West started raising warmongering statements after they experienced strategic defeat in their talks with Iran in Almaty earlier this month.
"These statements do not mean that a military threat is possible; rather they want to say that they have this option beside tens of other options, meaning that war is possible," he elaborated.
"But, we believe that such a war cannot be imagined for future. These words are like swearing the other side of the struggle after being overpowered by him" and they utter such statements "because they didn't have anything to say in the talks in response to Iran's logic," he added.