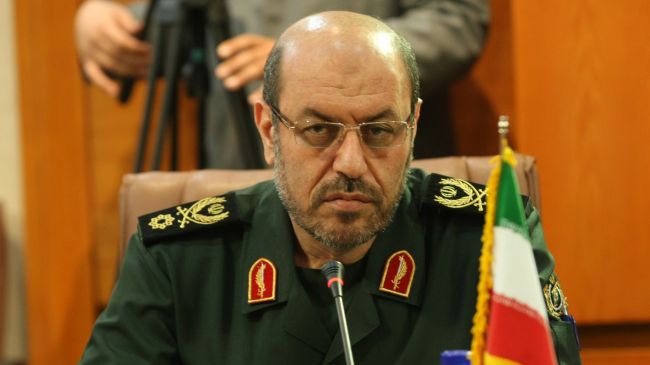 A top Iranian military commander says the Islamic Republic's response to US assassination of Iran's top military commander, Lt. Gen. Qassem Soleimani, and the second-in-command of Iraq's Popular Mobilization Units (PMU), Abu Mahdi al-Muhandis, will only be 'against military sites'.
Hossein Dehghan, Iran's former defense minister and current military adviser to the Leader of the Islamic Revolution Ayatollah Seyyed Ali Khamenei, made the remark in an exclusive interview with CNN in Tehran on Sunday, stressing that "the response for sure will be military and against military sites."
Lieutenant General Soleimani, along with Abu Mahdi al-Muhandis, the deputy chief of the Iraqi pro-government Popular Mobilization Units (PMU), was assassinated during the early hours of Friday. Four other Iranians as well as four Iraqis accompanying them were also martyred.
The Pentagon said in a statement that American President Donald Trump had ordered the US military to assassinate the top Iranian commander.
Following Soleimani's assassination, Ayatollah Khamenei said those who assassinated the IRGC Quds Force commander must await a harsh revenge, noting that the "cruelest people on earth" assassinated the "honorable" commander who "courageously fought for years against the evils and bandits of the world."
Iran's Supreme National Security Council (SNSC) has also said that a harsh vengeance "in due time and right place" awaited the criminals behind Soleimani's assassination.
The targeted assassination has raised fears of a conflagration between the US and Iran, prompting many countries in the region as well as in Europe to call on all parties to show restraint.
However, Brigadier General Dehghan said that Iran would not seek war with the US.
"Let me tell you one thing: Our leadership has officially announced that we have never been seeking war and we will not be seeking war," Dehghan said.
"It was America that has started the war. Therefore, they should accept appropriate reactions to their actions. The only thing that can end this period of war is for the Americans to receive a blow that is equal to the blow they have inflicted. Afterward they should not seek a new cycle," he added.
On Saturday, Trump threatened in a number of tweets that if Tehran attacked American assets, Washington would strike "52" Iranian targets, "very hard and very fast."
Dehghan described the American president's tweets as "ridiculous and absurd."
"[Trump] doesn't know international law. He doesn't recognize UN resolutions either. Basically he is a veritable gangster and a gambler. He is no politician he has no mental stability," the Iranian brigadier general added.
Dehghan referred to UN Resolution 2347, which condemns the unlawful destruction of cultural heritage, blasting Trump who had also threatened that an unspecified number of those targets would be Iran's cultural sites.
The Iranian military commander added that if logic and rationality were to be taken into account, Trump would be considered a war criminal, who would be tried in a relevant court of law.
Earlier on Sunday, Iran's Foreign Minister, Mohammad Javad Zarif, also lambasted Trump's threat of striking Iran's cultural sites.
"Targeting cultural sites is a WAR CRIME; -Whether kicking or screaming, end of US malign presence in West Asia has begun," he said.
When asked what would happen if the US president were to carry out his threat to hit any of Iran's cultural sites, Dehghan vowed that no US target would be beyond the reach of Iran's attacks.
"For sure no American military staff, no American political center, no American military base, no American vessel will be safe. And they are accessible to us," Ayatollah Khamenei's main military advisor stressed.
Lieutenant General Soleimani was an international figure who played a leading role in promoting security in regional countries, particularly in Iraq and Syria. Both commanders were admired by Muslim nations for eliminating the US-sponsored Daesh terrorist group in the region.