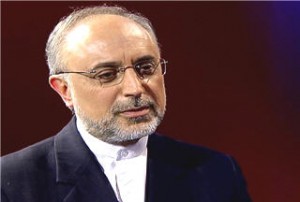 Atomic Energy Organization of Iran (AEOI) Director Ali Akbar Salehi says the Islamic Republic has no intention to withdraw from the Nuclear Non-Proliferation Treaty (NPT).
"Iran's official stance is to remain a committed member of the NPT," IRNA quoted Salehi as saying on Monday.
And this stance is good for Iran and the entire world, he stated.
Salehi added that Tehran plans to build two more uranium enrichment plants during the next Iranian calendar year, which begins on March 21.
He says Iran needs 20,000 megawatts of electricity to meet the domestic demand for energy.
"God willing, the construction of two new [uranium] enrichment sites may begin in the new Iranian year on the order of the president," Salehi said.
"We intend to use new generation centrifuges at these two facilities," he told the Iranian Students News Agency.
Up to 20 potential sites for the construction of the 10 new enrichment facilities have been located, as ordered by President Mahmoud Ahmadinejad, he added.
Salehi said the new enrichment plants will be similar to the Natanz enrichment facility in terms of production.
In another development, Iranian Foreign Ministry Spokesman Ramin Mehmanparast dismissed the West's new proposal about the Tehran research reactor, calling it illogical.
In the proposal, the United States, Russia, and France asked Iran to shut down the Tehran research reactor and to purchase medical radioisotopes from foreign countries instead of using the reactor to produce them.
On Monday, Mehmanparast said that Iran will not study the proposal because the Islamic Republic's officials believe it is worthless and illogical.