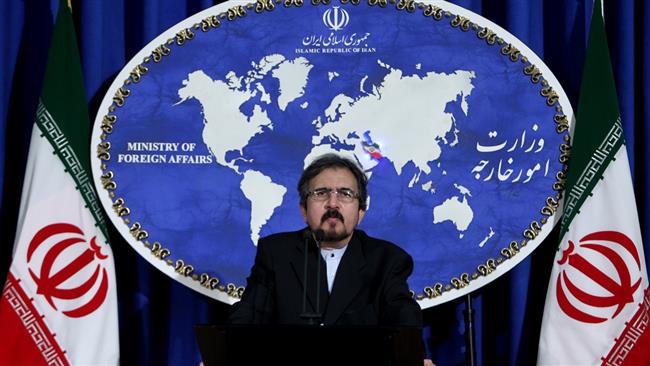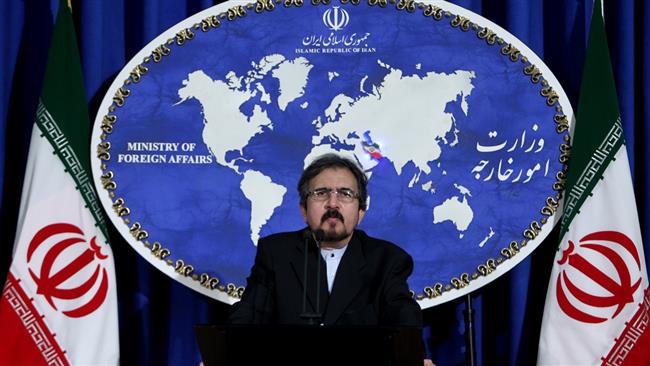 Iran has rejected foreign media reports about Iran's Foreign Minister Mohammad Javad Zarif and his Saudi counterpart Adel al-Jubeir trading barbs at a conference in Italy, saying the news is fabricated.
"This news is totally false and a blatant news fabrication with certain intentions and goals," Foreign Ministry spokesman Bahram Qassemi said on Saturday.
Qassemi's remarks came one day after some reports claimed that Zarif and Jubeir had engaged in a furious war of words, accusing each other of meddling in regional affairs during the Mediterranean Dialogues (MED) summit, a conference on security in the Mediterranean region.
The top Saudi diplomat was quoted as blasting what he called Iran´s "negative influence throughout the region."
Zarif, in turn, was cited as accusing Riyadh of having dismissed ceasefire efforts in both Syria and Lebanon, sponsoring the Daesh terrorist group, imposing a blockade on Qatar and interfering in Lebanon's domestic affairs.
Qassemi noted that the Iranian and Saudi foreign ministers had addressed the Rome conference on two separate days.
Saudi Arabia has been widely viewed as a supporter of radical Wahhabism, the same ideology influencing the Takfiri terror outfits wreaking havoc in the Middle East region and beyond. The kingdom also launched an invasion of Yemen in March 2015, attempting unsuccessfully to reinstall a former allied regime.
Iran has been offering military advisory assistance to Syria and Iraq in their campaigns against those Takfiri elements.
In a letter to Leader of the Islamic Revolution Ayatollah Seyyed Ali Khamenei last month, Major General Qassem Soleimani, who commands the Quds Force of Iran's Islamic Revolution Guards Corps (IRGC), declared the end of Daesh in both Syria and Iraq.
Relations between Iran and Saudi Arabia first soured after a deadly human crush during the Hajj rituals in September 2015, when hundreds of Iranian pilgrims among others lost their lives.
Tensions further escalated a few months later following the kingdom's execution of prominent Shia cleric Sheikh Nimr al-Nimr.
Riyadh cut off diplomatic ties with Tehran in January 2016 following angry protests in front of its diplomatic premises in the cities of Tehran and Mashhad against the execution.