Iran
Middle East
Iranian Army Unveils New Defence Achievements
The Iranian Army unveiled on Monday new achievements, including laser-guided missile system and a new drone, in a ceremony participated by Deputy Army Commander for Coordination Rear Admiral Habibollah Sayyari and Commander of the Army's Ground Force Brigadier General Kioumars Heidari.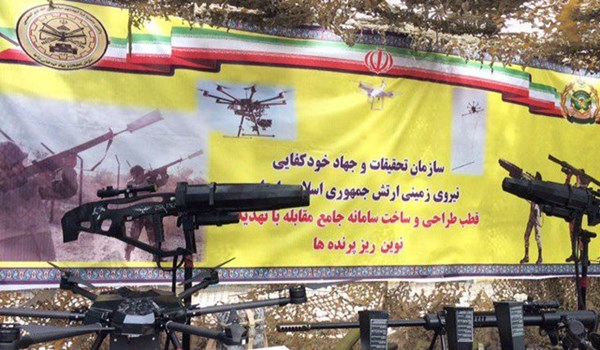 The new achievements include a laser-guided system with the capability of guiding laser missiles with a range of 5.5km which can be mounted on tanks, drones and helicopters.
Also, an ultra-long camera to monitor long distances, specially in bordering areas, which can trace and magnify human-size objects from a 15km distance and objects as large as a vehicle from 20km distance, as well as a 5KW solar power plant were unveiled by the Army officials today.
Meantime, an exhibition of knowledge-based companies was held in Tehran on Monday in which a drone named Faraz 220 was unveiled. The drone is the indigenized model of the US Aerosonde UAV with the capability of operating 100km away, carrying 20kg of cargos and flight duration of over 8 hours.
Also, during the Monday ceremony, different types of optimized tanks equipped with the state-of-the-art systems were delivered to the Army units.
In recent years, Iran has made great achievements in the defense sector and gained self-sufficiency in essential military hardware and defense systems.
The country has repeatedly made it clear that its military might is merely based on the state's defense doctrine of deterrence and that it poses no threat to other countries.
The Iranian Army's Ground Force unveiled new arms and military equipment in a ceremony participated by high-ranking commanders in Tehran in April.
The achievements included smart multi-rotor bomber drone with the capability of carrying 8kg of ammunition and flight durability of 30 minutes, a hunter qaudcopter with the ability to throw net on the target, a Passive Detection of moving humans with Dynamic Speed (PADS), a plasma atomic spectrometer, laser alarm systems carried by person and vehicle, backpack jamming systems, two squadrons of hand-thrown drones and G3-mounted launchers to throw net.
Meantime, a 23-mm BTR-mounted BTR personnel carrier cannon and a self-propelled 155-mm cannon were unveiled.