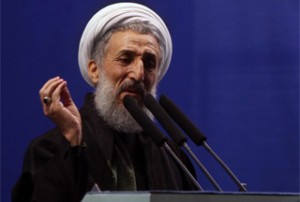 An Iranian cleric on Friday criticized certain regional countries for "supporting" the leader of the Jundallah terrorist group, Abdolmalek Rigi.
"Certain Middle Eastern countries worked with hegemonic [powers] in supporting Rigi and the arrest of this criminal came as a severe blow to them," Hojjatoleslam Kazem Seddiqi, Tehran's interim Friday Prayers Leader said.
Seddiqi said Rigi received "all-out support from world intelligence services," and called his arrest a "big scandal" for the US, which he said was known to sponsor "terrorism" across the world.
Abdolmalek Rigi was captured by Iranian security forces on February 23. He was aboard a passenger jet flying to Kyrgyzstan from the UAE when his plane was grounded in the Iranian port city of Bandar Abbas.
A few hours after Rigi's arrest, Iranian Intelligence Minister Heidar Moslehi said that the notorious villain was at a US base 24 hours prior to being captured by Iranian forces, adding that the Americans had issued an Afghan passport for him.
In his confessions, Rigi revealed details about his ties with some intelligence agencies such as the CIA and said that he had closely cooperated with the security services of Afghanistan and Pakistan.
The US rejects any ties with the notorious terror group, which has claimed responsibility for numerous terrorist attacks in Iran.
The Jundallah terrorist group has also carried out mass murders, armed robbery, kidnappings, acts of sabotage and bombings inside the country.