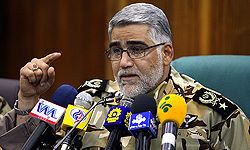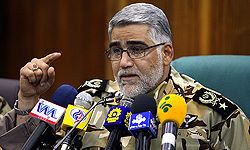 A senior Iranian army commander said that the US and the West's fear of unity among Muslims is the main reason behind their military build up in the Middle-East.
"They are fearful of a united Islamic Ummah (community)," Commander of the Iranian Army Ground Force Brigadier General Ahmad Reza Pourdastan said, pointing to the US and West's growing military activities in the region.
"They don't want the Islamic states to grow united and create a power pole," Pourdastan stated.
The Iranian commander further noted that the westerners have failed in their efforts to stop the Islamic awakening sweeping the region and are now trying to contain and control it.
Since the start of 2011, the region has witnessed a growing wave of popular protests resulted from the people's growing awareness and vigilance.
Tunisia saw the overthrow of Zine El Abidine Ben Ali in a popular revolution in January, which was soon followed by a revolution which toppled Hosni Mubarak in Egypt in February.
Bahrain, Jordan, Kuwait, Saudi Arabia, Yemen and Libya have since been the scene of protests against their totalitarian rulers, who have resorted to brutal crackdown on demonstrations to silence their critics.
While Libya celebrated the victory of its revolution after the death of the country's dictator, Muammar Qaddafi, in October, uprisings continue in several other Muslim states.