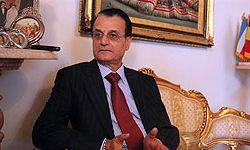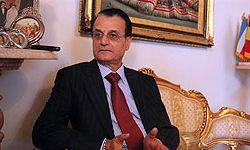 Tehran's Ambassador to Beirut Qazanfar Roknabadi and Lebanese Foreign Minister Adnan Mansour conferred on the two countries' relations and exchanged views on the latest developments in the region.
During the meeting held in Beirut on Wednesday, Mansour stressed the sensitivity of the current developments in the region and praised the "constructive role" played by the Islamic Republic for strengthening stability and security in the region.
He also voiced pleasure in the results of the two countries' agreements on facilitating the visa requirements for reciprocal visits by Iranian and Lebanese nationals.
Roknabadi, for his part, said that the West has failed in its conspiracies against the regional nations, the Iranian nation in particular, and stated that further strengthening of convergence among nations, specially around the axis of resistance (against Israel and the bullying powers) ensures a prosperous future for the region.
He further renewed Iran's call for the Lebanese groups' commitment to dialogue, unity, solidarity and maintenance of Lebanon's stability and tranquility.
Iran and Lebanon enjoy cordial relations and have further expanded these ties in recent years.
The two sides have exchanged several delegations of high-ranking officials in the last two years.
Iranian and Lebanese officials have recently doubled efforts to further expand the bilateral relations and mutual cooperation between the two nations.
The two countries signed a cluster of economic agreements during Iranian President Mahmoud Ahmadinejad's landmark visit to Beirut in October 2010.