Iran
Middle East
North America
Iranian FM: No US Excessive Demands Accepted
Iranian Foreign Minister Hossein Amir Abdollahian underlined that his country will not accept the US excessive demands in the Vienna talks to reach an agreement.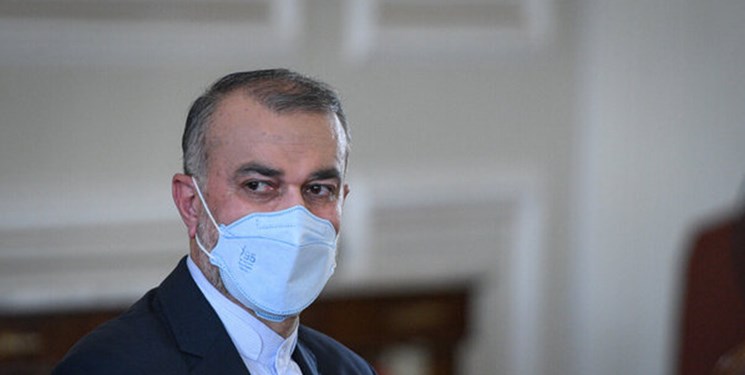 If there is a pause in the Vienna talks, it is because of the US side's excessive demands, Amir Abdollahian wrote in Persian on his twitter page on Monday.
He added that the Iranian foreign ministry acts with might and logic to gain the highest level of the nation's interest while it observes the redlines.
Iran will never give in to the US excessive demands, adding that if the White House shows a realistic behavior, an agreement is within reach, Amir Abdollahian said.
Amir Abdollahian had also on Sunday underlined that the US has prolonged the talks in Vienna due to its excessive demands.
He made the remarks in a phone conversation with his Omani counterpart Sayyid Badr Albusaidi.
During the phone talks, Amir Abdollahian blasted the US for imposing new sanctions against the Iranian individuals and entities.
Also on Monday, Iranian Foreign Ministry Spokesman Saeed Khatibzadeh said that Tehran has delivered clear messages to the US via EU, but there is no change in Washington's attitude with regard to the Vienna talks.
"The current suspension in Vienna talks is because of the US' lack of political decision on the issue," Khatibzadeh said in his weekly press conference.
"We cannot wait forever and we won't wait for anything and the US must take its political decision," he added.
Khatibzadeh deemed the US responsible for the current halt in the talks and said that the solution lies in the White House that should give a rational answer to Iran so that the talks can resume.
Iranian officials have repeatedly said the US should remove all illegal sanctions against the Islamic Republic in a verifiable manner and guarantee that a new US administration would not breach the JCPOA once again.
Former US president Donald Trump unilaterally left the JCPOA in May 2018 and re-imposed the anti-Iran sanctions that the deal had lifted. He also placed additional sanctions on Iran under other pretexts not related to the nuclear case as part of his "maximum pressure" campaign.
In May 2019, following a year of strategic patience, Iran decided to let go of some of the restrictions on its nuclear energy program, resorting to its legal rights under the JCPOA, which grants a party the right to suspend its contractual commitments in case of non-compliance by the other side.
The Biden administration says it is willing to compensate for Trump's mistake and rejoin the deal, but it has retained the sanctions as leverage.
Last month, the talks in Vienna, aimed at resurrecting the JCPOA, were paused for an undetermined period of time but later reports suggested that they were in final stages.