Iran
"Iranian Helicopters Equipped with Guided Missiles Ready to Confront Enemies"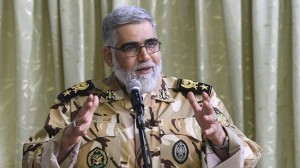 Iranian Commander of the Army Ground Force stressed that combat choppers which are equipped with high-precision guided missiles and rockets are capable of confronting all types of enemy threats even in asymmetric wars.
"Today, our helicopters with their guided rockets and missiles which enjoy a high destructive power and precision capability are ready to confront any threat posed from the ground," Brigadier General Ahmad Reza Pourdastan said, addressing the graduation ceremony of Iranian Army's Air Borne cadets in Tehran on Sunday.Brigadier General Ahmad Reza Pourdastan
He also hailed the Iranian Air Borne unit for its achievements in building different weapons and equipment, and voiced the unit's readiness to train the cadets of the friendly and Muslim countries, Fars news agency reported.
Pourdastan said that the country's Air Borne also enjoys a high operational power and can fight against the enemies in an asymmetric war.
In relevant remarks in February, Managing-Director of Iran's Helicopter Logistics and Overhauling Company (PANHA) Amir Ahmadabadi underlined that the country is the third biggest helicopter power in the world, but said the country is seeking even more progress in this field.
"Iran is the third helicopter power in the world; of course we are far from the heights to which we should ascend," Ahmadabadi said, addressing the first national helicopter conference in Tehran.