Economy
Imam Ali Khamenei
Iran
Leaders of Ummah
Middle East
North America
Leader Calls on Officials to Disarm US Sanctions Weapons through Self-Reliance, Hard Work
Supreme Leader of the Islamic Ummah and Oppressed Imam Seyed Ali Khamenei underlined the country's need to rely on its own capabilities and hard work to defuse the US sanctions, after its efforts to work out a negotiated end to the sanctions policy produced no tangible result.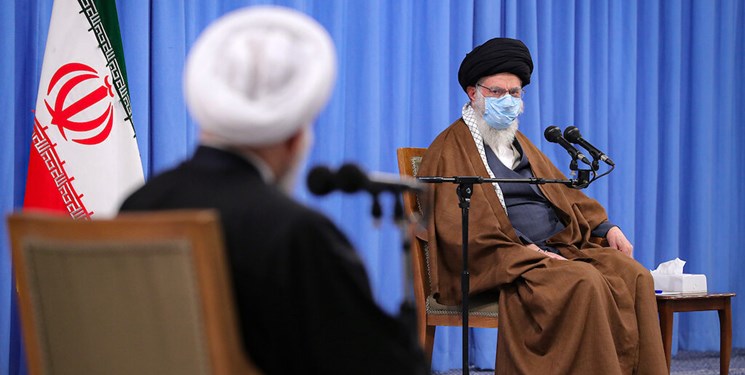 "Curing sanctions is possible through the two ways of defusing and overcoming them as well as removing them. We, of course, tried the option of removing the sanctions once and negotiated for several years, but with no result," Ayatollah Khamenei said, addressing a meeting of the Supreme Council of Economic Coordination in Tehran on Tuesday.
"If we manage to overcome the sanctions through hard work, initiatives and enduring problems, and the opposite party witnesses sanctions lose effectiveness, [he/she] will give up sanctions gradually," he added.
"We have abundant capacities and capabilities to defuse sanctions provided that we show will, try and confront problems," Ayatollah Khamenei said.
He referred to the US and Europeans' constant criticism and pressures on Iran, and said, "While they, themselves, incorrectly interfere in the regional issues to the highest level, they tell us not to interfere in the region and while Britain and France are in possession of destructive atomic missiles and Germany is on this path too, they tell us not to have missiles. It is none of your business. You should correct yourself first and then opine (on others)."
The Leader further blasted the European trio for partnering in the US sanctions against Iran, stressing that they cannot deny their role in the pressure campaign against the Iranian people.
Earlier this month, Iran's President Hassan Rouhani downplayed the importance of the US elections to Tehran, saying that the next ruler of the White House will surrender to the Iranian nation's will.
"It is not important who wins the US election; the next government of America will surrender to the Iranian nation," Rouhani said in a ceremony to inaugurate the first phase of a water transfer project from the Persian Gulf to the Central Iranian provinces.
He said that the hard times that the government and people suffered in the past three years has been "unprecedented".
"We were always under pressure but this was an economic war. They increased the sanctions amid the coronavirus pandemic," Rouhani said.
His remarks came after Ayatollah Khamenei underlined that Iran would continue its past policies irrespective of the results of the November 3 presidential elections in the US.
"No matter who wins the US elections, it won't affect our policy toward the US. Some people talk about what will happen if this or that one is elected. Yes, certain events may happen but they don't concern us. Our policy is calculated and clear," Ayatollah Khamenei said in a televised speech on the occasion of the birth anniversary of Prophet Mohammad (PBUH) and Imam Jafar Sadeq (AS) the sixth Imam of Muslims.