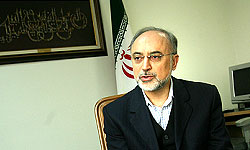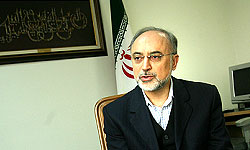 Iranian Foreign Minister Ali Akbar Salehi in a telephone conversation with his Libyan counterpart Mohamed Abdel Aziz discussed the latest developments in the bilateral ties between the two Muslim nations.
During the phone talk on Tuesday, the two foreign ministers called for the removal of the obstacles hindering the mutual cooperation between Iran and Libya.
The Iranian foreign minister congratulated his Libyan counterpart and the Libyan nation on the occasion of the anniversary of the victory of the Libyan revolution against the former Libyan dictator, Muammar Qaddafi, in February 2011.
The Libyan foreign minister, for his part, congratulated the 34th anniversary of the victory of Iran's Islamic Revolution.
Earlier this month in a meeting, the Iranian parliament's National Security and Foreign Policy Commission discussed the latest status of the ties between Iran and Libya.
During the commission's special session also attended by Tehran's ambassador to Tripoli and relevant officials from different Iranian ministries and the Islamic Republic of Iran Broadcasting (IRIB), participants discussed the latest conditions of the ties between Iran and Libya.
Following the session, Commission Rapporteur Seyed Hossein Naqavi Hosseini said that the Iranian ambassador had informed the parliament that the needed grounds for serious cooperation between the Islamic Republic of Iran and Libya are ready and the lawmakers expressed their views about grounds for the two Muslim states' cooperation.
Hosseini noted that lawmakers and officials had common views on "the necessity to have a long-term outlook towards the relations with Libya."
Hosseini said that the Iranian lawmakers also described the two countries' capacities for economic, political and cultural ties as "very high", and called for activating the Iranian and Libyan private sectors to boost their presence and interactions.
In October, Iranian First Vice-President Mohammad Reza Rahimi, in a congratulation message to the newly elected Libyan Prime Minister, voiced Tehran's readiness to share experiences with Tripoli to reconstruct the economic infrastructures of that country.