Iran
Middle East
Iranian-made ocean-going warship joins IRGC's naval fleet
The naval fleet of Iran's Islamic Revolution Guards Corps (IRGC) has received a domestically-built ocean-going warship capable of carrying aircraft, drones and missile defense systems.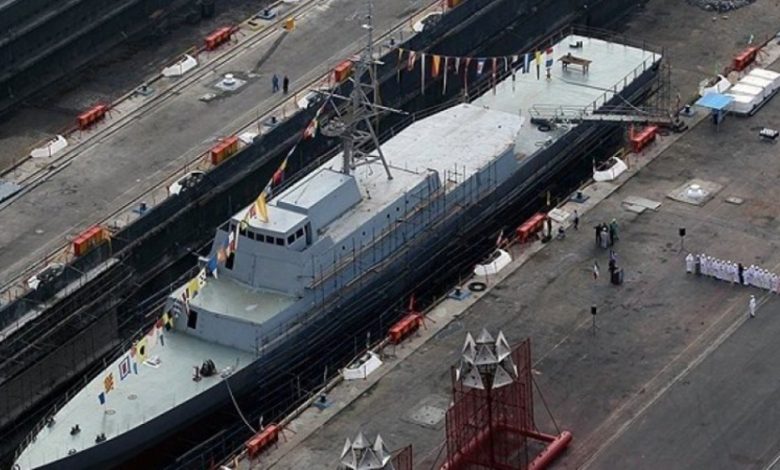 The heavyweight, multipurpose vessel, which has been designed for long sea journeys, joined the IRGC's Navy during a ceremony on Thursday, with senior military and government officials in attendance.
The 400-ton warship, which is 150 meters long and 22 meters wide, can carry different types of aircraft, drones, helicopters and operational vessels as well as missile, air defense and radar systems.
It was named Shahid Roudaki warship after martyred IRGC Navy commander Abdollah Roudaki.
A floating marine city
The vessel is equipped with three-dimensional phased-array radars, surface-to-surface and surface-to-air missiles, advanced communication systems for electronic warfare, and a Khordad 3 air defense system, all of which are designed and put into operation by Iranian experts.
The vessel — which resembles a floating marine city — can carry out combat, logistical and intelligence-gathering missions in the ocean aimed at establishing stable security in maritime transportation lines and providing assistance to the commercial and fishing fleets belonging to the Islamic Republic and regional countries.
New warship to defend national, regional interests
Speaking during the ceremony, the IRGC chief commander said the main mission of the Shahid Roudaki ocean-going warship was to ensure the security of sea routes and perform assistance, rescue and combat operations in special circumstances.
"Today we are witnessing a combat and logistic support ship join the IRGC's Navy that can both defend itself, defend our interests at sea, and play a role in securing our country's maritime lines near and far," Major General Hossein Salami said.
"Some may have thought that the basis of our performance is close-range warfare, but we declare that both close-range combat in far-off areas and long-range combat are on our agenda."
Salami also stressed the defensive nature of Iran's strategy, warning, however, that the country will be all aggressive if its enemies threaten it or attempt to carry out an offensive action.
The basis of our action is to first prevent the enemy from even thinking about any threat and foil it before it is formed, said Salami. "That is the full meaning of the concept of deterrence."
Rear Admiral Alireza Tangsiri, commander of the IRGC's Navy, said the force was ready for deep-water patrolling beyond the Persian Gulf.
"Presence and assignments in the Indian Ocean is our right," the commander said.