Iran
Middle East
Syria
Iranian Minister, Syrian President Meet on Economic Ties
Iranian Roads and Urban Development Minister Rostam Qassemi in a meeting with Syrian President Bashar al-Assad in Damascus explored avenues to broaden economic and commercial relations between the two countries.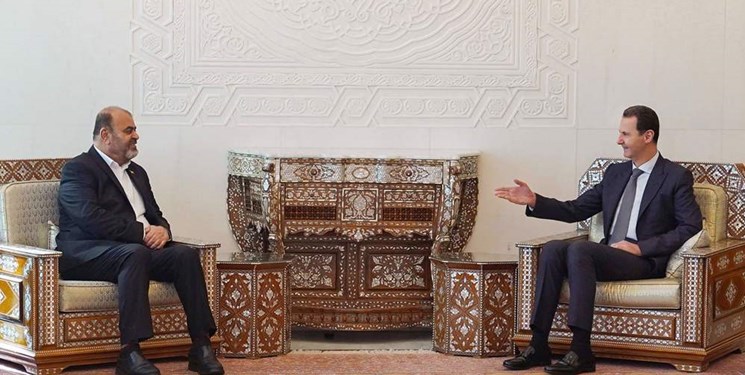 During the meeting on Wednesday, Qassemi and Assad discussed expansion of the countries' relations, specially in the economic field, the (available) approaches to expansion of cooperation between the countries' public and private sectors, and encouragement of joint investment.
Assad, for his part, laid emphasis on the significance of implementation of new projects that could meet the countries' "strategic interests".
Echoing Assad's remarks, Qassemi likewise stressed the need for the countries to deepen their cooperation in order to be able to meet the "friendly nations'" interests.
The Iranian minister also reaffirmed Iran's "unfaltering position" of lending support to the Syrian people's steadfastness in the face of terrorism.
Also, in a meeting with Syria's Economy and Trade Minister Mohammad Samer al-Khalil on Wednesday, Qassemi hailed the approaching emergence of Syria from the conflict, and its significance for the countries' ties.
"The end of the war in Syria is the beginning of a new era of economic relations between the two countries, especially given that Iran and Syria have been beside one another throughout the era of fighting international terrorism," the Iranian official said.
Syria found itself in the grips of rampant foreign-backed violence in 2011, seeking out the support of its allies, including the Islamic Republic.
Acknowledging the request, Iran began providing the Syrian military with advisory support.
The assistance helped reverse anti-Syria terrorists' advances and enabled the country to defeat the ISIL group in late 2017.